Centrafrique : la fabrique d'un autoritarisme
Central African Republic. Authoritarianism in the making -- This text analyses the conditions in which the Central African Republic, a failed state emerging from an existential crisis, is able to play on its own weaknesses and a particular regional and international configuration to coerce the political arena, terrorizing its own population by creating an enemy that is inevitably foreign, and using Russia as an instrument to perpetuate itself. The means and techniques of coercion are extremely modern, even if they are based on a repertoire of coercive practices already well established in Central Africa. Such authoritarianism is based on the construction of a specific threat (transnational armed groups), a lacklustre international community that is exhausting itself in implementing outdated solutions, and a security offer that relegates UN peacekeeping or European training missions to the sidelines: Russian and Rwandan military involvement reflects a desire to substitute the regional and international management of the crisis, while at the same time maintaining a concessionary economy in the mining and agricultural sectors, the primary beneficiaries of which continue to be the rulers in Bangui.
Ce texte analyse les conditions dans lesquelles la Centrafrique, un Etat déliquescent au sortir d'une crise existentielle, sait jouer de ses propres faiblesses et d'une configuration régionale et internationale particulière pour aujourd'hui contraindre le champ politique et terroriser sa propre population en construisant un ennemi forcément étranger et en instrumentalisant la Russie pour sa pérennisation. Les moyens et techniques de coercition sont d'une grande modernité, même s'ils s'appuient sur un répertoire de pratiques coercitives déjà bien rodées en Afrique centrale. La fabrique d'un tel autoritarisme s'appuie sur la construction d'une menace particulière (des groupes armés transnationaux), une communauté internationale atone qui s'épuise à mettre en œuvre des solutions éculées et une offre de sécurité qui renvoie le maintien de la paix onusien ou la mission de formation européenne à la marge : l'implication militaire russe mais aussi rwandaise traduit une volonté de mettre hors jeu une gestion régionale et internationale de la crise qui a échoué, tout en reconduisant une économie concessionnaire dans le domaine minier et agricole, dont les premiers bénéficiaires restent les gouvernants à Bangui.
Fichier principal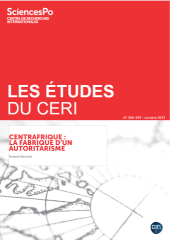 Etude_268_269.pdf (1.2 Mo)
Télécharger le fichier
Origin : Publisher files allowed on an open archive
licence : CC BY NC ND - Attribution - NonCommercial - NoDerivatives