The Nigeria Watch Project and the Challenges in the Study of Lethal Violence in Nigeria
Le projet Nigeria Watch et les difficultés dans l'étude de la violence mortelle au Nigeria
O Projecto Watch Nigeria e o desafio do estudo da violência letal na Nigéria
Focusing on the Nigeria Watch project (accessible on http://www.nigeriawatch.org/), this article ponders the study of lethal violence in Nigeria and its challenges. Rumors about violent deaths spread widely in Nigeria, most notably through social media. Academics, journalists or members of the public interested in investigating violent phenomena in the country often struggle to find reliable sources. That is why a team of academics decided to set up the Nigeria Watch Project in June 2006. This article examines and discusses the Nigeria Watch Project and its attempt to further the study of violence in Nigeria. Building on several Nigerian newspapers, Nigeria Watch aims at constituting a database of violent deaths on a daily basis. Deadly incidents are coded in the database along with specific information such as causes of death and location. The data is made available for mapping, understanding and analyzing violent trends in Nigeria. The project guarantees open access to its newspaper sources and a set of basic functionalities. More advanced features are available to password holders, who can use the data to create their own visuals, including graphs, charts and maps. This article also recognizes some limits and shortcomings of the database and, more generally, the difficulties of conducting qualitative and quantitative research on violence in African contexts. For instance, sources are a major point of contention: the database relies on newspaper reporting, which is biased and patchy. Categorizing deadly events results also from subjective choices and can be subjected to criticisms. Despite these challenges, the collected data may eventually contribute decisively to identifying patterns of violence in Nigeria, debunking popular misconceptions or myths and informing evidence-based policies.
À partir de la présentation du projet Nigeria Watch (accessible à l'adresse http://www.nigeriawatch.org/), cet article se penche sur l'étude de la violence mortelle au Nigéria et de ses enjeux. Les rumeurs de morts violentes sont largement diffusées au Nigeria, notamment via les réseaux sociaux. Les chercheurs ou membres du public souhaitant poursuivre des investigations portant sur les phénomènes violents dans ce pays rencontrent des difficultés pour identifier des sources fiables. C'est pourquoi une équipe de chercheurs a décidé de lancer le projet Nigeria Watch en juin 2006. Cet article examine le projet Nigeria Watch et sa contribution à l'étude de la violence au Nigéria. En s'appuyant sur plusieurs journaux nigérians, ce projet cherche à constituer une base de données sur les morts violentes à partir de données quotidiennes. Les événements mortels sont codés dans la base de données avec des informations complémentaires, telles que la cause et le lieu du décès. Les données sont ensuite mises à disposition pour permettre de cartographier, comprendre et analyser les tendances violentes au Nigéria. Le projet garantit un accès libre à ses sources ainsi qu'à ses fonctionnalités de base. Des fonctionnalités avancées sont disponibles sur demande pour des utilisateurs, qui peuvent ensuite créer leurs propres graphiques et cartes. Cet article discute également certaines limites et problèmes auxquels est confrontée la base de données, et plus généralement, la recherche qualitative et quantitative sur la violence dans les contextes africains. Ainsi, les sources constituent une pierre d'achoppement majeure : la base de données s'appuie sur des sources journalistiques qui sont biaisées et/ou incomplètes. Par ailleurs, la catégorisation d'événements violents résulte de choix subjectifs et peut être soumise à la critique. Malgré ces difficultés, les données collectées peuvent toutefois servir de manière décisive à identifier des tendances concernant la violence au Nigéria, à mettre à mal certains mythes ou idées fausses et à façonner la décision publique en s'appuyant sur des faits avérés.
Tendo como ponto de partida a partir da apresentação do Projecto Nigeria Watch (acessível no endereço http://www.nigeriawatch.org/), este artigo debruça-se sobre o estudo da violência mortífera na Nigéria e nos seus desafios. Os rumores de mortes violentas são largamente difundidos nomeadamente através das redes sociais. Os investigadores ou público em geral, interessados em prosseguir investigação relacionada com os fenómenos de violência no país, enfrentam dificuldades para identificar fontes credíveis. Por essa razão uma equipa de investigadores decidiu lançar o projecto Nigeria Watch em Junho de 2006. Este artigo examina este projecto e a sua contribuição para o estudo da violência na Nigéria. Apoiando-se em vários jornais nigerianos, o projecto procura constituir uma base de dados sobre mortes violentas, a partir de dados diários. Os acontecimentos mortais são codificados com informações complementares, tais como a causa e lugar das mortes. A seguir os dados ficam disponíveis a fim de permitirem cartografar, compreender e analisar as tendências da violência na Nigéria. O projecto garante acesso livre às respectivas fontes assim como às suas funcionalidades de base. Estão disponíveis funcionalidades avançadas, a pedido dos utilizadores, que, em seguida, poderão criar os seus próprios gráficos e mapas O artigo discute também alguns dos limites e problemas com que a base de dados se confronta, e, de forma mais geral, a dificuldade em realizar pesquisa qualitativa e quantitativa sobre a violência em contextos africanos. Assim as fontes constituem o entrave maior : a base de dados apoia-se em fontes jornalísticas que são enviesadas ou incompletas. Por outro lado, a categorização de acontecimentos violentos resulta de escolhas subjectivas e pode ser submetida à crítica. Apesar destas dificuldades, os dados recolhidos podem contudo servir, de forma decisiva, para identificar as tendências da violência na Nigéria, para desconstruir alguns mitos ou ideias falsas e formar as decisões políticas com base em factos comprovados.
Fichier principal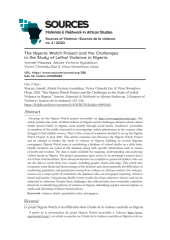 SOURCES_02_07_I_MAAZAZ_et_al_The_Nigeria_Watch_Project.pdf (1.71 Mo)
Télécharger le fichier
Origin : Publisher files allowed on an open archive