Atlas multi-plateforme d'un mouvement social : le cas des Gilets jaunes
In this article, we propose to map an online social movement, and more precisely the Yellow Vests movement, through different online platforms (Facebook, Twitter and YouTube) to draw its atlas. Our objective is twofold: to describe the activity of the Yellow Vests in Facebook groups in all their variety on the one hand, and to defend a methodological approach which mixes as much as possible the traces collected from different digital platforms on the other hand. The Yellow Vests Facebook groups will constitute our privileged observation post of the movement. The examination of the content of posts published on Facebook, coupled with the analysis of the numerous metadata on groups allows us to delimit the contours of the movement's claim-space and its aggregation dynamics. Exploitation of the links shared in these publications, on the other hand, give relief to our atlas, as we use them attribute political labels to Facebook groups. The political label of links is calculated according to their usage on Twitter and ideology inference using the follower-followee network. The way the Yellow Vests refer to external sources on the web – whether websites or YouTube channels – also sheds light on their relationship with the media. We rely on an existing characterization of the most used media in the digital public space to grasp their relationship to mainstream, militant media (whether right or left) or to the counter-informational space. The analysis of these practices of media use shows that the Yellow Vests build their discourse by relying largely on media and the so-called "alternative" expression platforms (auto-media, videos, live, etc.) Overall, we note a great geographic and ideological plurality, but also a heterogeneous and constantly evolving repertoire of demands. However, a form of political opposition to power unites our groups which also cultivate a rejection of the modes of representation of the movement made by the traditional media.
Dans cet article, nous proposons de cartographier un mouvement social en ligne, et plus précisément le mouvement des Gilets jaunes, à travers différentes plateformes en ligne (Facebook, Twitter et YouTube). Notre objectif est double : établir l'atlas des activités des Gilets jaunes dans les groupes Facebook, et défendre une approche méthodologique qui mêle autant que possible les traces collectées sur différentes plateformes numériques d'autre part. Les groupes Facebook des Gilets jaunes constitueront notre poste d'observation privilégié du mouvement. Si l'examen du contenu des posts publiés sur Facebook, couplé à l'analyse des nombreuses méta-données attachées à chaque groupe nous permet de délimiter les contours de l'espace de revendication du mouvement et sa dynamique d'agrégation, nous exploitons les liens qui circulent dans ces mêmes publications pour diversifier les points de vue sur le mouvement. Ainsi, nous propageons depuis Twitter des orientations politiques calculées en fonction des personnes qui relaient telle ou telle URL sur la plateforme de microblogging. La façon dont les Gilets jaunes se réfèrent à des sources extérieures sur le web – qu'il s'agisse de sites web ou de chaînes Youtube – nous éclaire également sur leur relation aux médias. On s'appuie ainsi sur une caractérisation existante des grands médias de l'espace public numérique pour saisir leur rapport aux médias mainstream, militants (qu'ils soient de droite ou de gauche) ou à l'espace de la contre-information. L'analyse de ces pratiques montre que les Gilets jaunes construisent leur discours en s'appuyant largement sur des médias et des plateformes d'expression dites « alternatives » (auto-médias, vidéos, live, etc.). Globalement, nous faisons le constat d'une grande pluralité géographique, idéologique mais aussi de revendications hétérogènes et changeantes. Pour autant, une opposition au pouvoir institutionnel réunit nos groupes, qui cultivent également un rejet des modes de représentation du mouvement par les médias traditionnels.
Fichier principal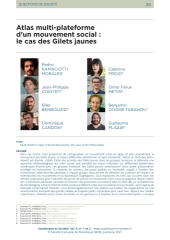 atlas.pdf (18.5 Mo)
Télécharger le fichier
Origin : Publisher files allowed on an open archive