La diversité : esquisse de critique sociologique
This note proposes a deconstruction of the notion of diversity, which is more and more frequently used. This is done by making explicit the historical contexts in which this notion did appear and the social problems it was supposed to solve, with, in this respect, large differences between France and the US. In a second part, the concrete use of this notion is examined: which traits are put forward, in the name of diversity, which groups are labeled as "diverse"...Then, the unintended effects of this labeling process upon individuals are dealt with, as well as the thesis emphasizing the benefits societies may draw from talking in terms of diversity, rather than in terms of equality or inequality. Last, the conclusion underlines the ideological and political dimensions of this rhetoric of diversity, which is based on a choice of one justice model, which should be made explicit.
Cette note esquisse une déconstruction de la notion de plus en plus usitée de diversité. Elle le fait en explicitant les contextes historiques dans lesquels elle est apparue, et les problèmes sociaux qu'on s'efforçait ainsi de résoudre, avec en l'occurrence des différences notables entre la France et les Etats-Unis. Dans un second temps, l'usage concret de cette notion est examiné : quels traits sont mis en exergue au nom de la diversité, quels groupes sont étiquetés comme " divers "... Les effets pervers de cet étiquetage sur les personnes sont ensuite abordés, tandis que, au niveau des sociétés, sont présentées les thèses soulignant les avantages à recourir à cette notion, plutôt qu'à celle d'égalité/inégalité. Enfin, la conclusion souligne les dimensions idéologiques et politiques de cette rhétorique de la diversité, sous-tendue par un choix parmi des modèles de justice qu'il convient d'expliciter.
Fichier principal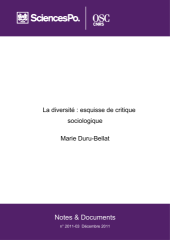 nd-2011-03.pdf (225.9 Ko)
Télécharger le fichier
Origin : Files produced by the author(s)