L'Europe de la défense à la croisée des chemins ?
[European Defense at the Crossroads?] Despite European tensions and the crisis in transatlantic relations over the war in Iraq, the year 2004 saw significant progress in the area of European Security and Defense Policy (ESDP), to the extent that European Defense today appears as the main source of satisfaction in an otherwise cheerless European landscape. The future of ESDP nevertheless remains full of grave uncertainties. A critical analysis of each of the major undertakings in European Defense will provide an indication of the direction in which the ESDP is heading.
Malgré les tensions européennes et la crise du lien transatlantique à propos de la guerre en Irak, l'année 2004 a été marquée par des avancées significatives dans le domaine de la Politique européenne de sécurité et de défense (PESD), au point que l'Europe de la défense fait aujourd'hui figure de principale source de satisfaction dans un paysage européen " sinistré ". L'avenir de la PESD n'en demeure pas moins chargé de lourdes incertitudes. L'examen critique de chacun des grands chantiers de l'Europe de la défense permet de dresser le tableau des futures orientations de la PESD.
Fichier principal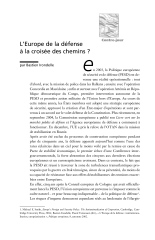 ci26p45-55.pdf (119.06 Ko)
Télécharger le fichier
Origin : Explicit agreement for this submission