Le règlement REACH, une politique européenne de l'incertain
REACH Regulation : A European Uncertainty Policy The Building of an Indirect Policy Making Process for Chemical Hazards Over the last century, the chemical industry has synthesised and commercialised more than 100,000 chemicals with no premarket authorization. The effects of those chemicals on human health remain therefore largely unknown. This article first analyses the political strategies that have aimed at controlling those chemicals over the past 50 years, and casts a light on the differences between Europe and the United States. Then it characterizes the political process that has resulted in the adoption of REACH in December 2006 after intense controversies and negotiations. This Regulation is not a complete innovation, quite to the contrary it has derived from political processes rooted in European policies. However, REACH implies some changes linked to the integration of the Precautionary Principle in environmental policies. In particular, it induces a shift of the burden of proof from governmental bodies to industrial firms regarding the identification and assessment of dangerous chemicals. Still, this shift is far from solving all the issues surrounding the implementation of the Regulation and from reducing all the uncertainties linked to the industrial use of chemicals.
Au cours du siècle dernier, l'industrie chimique a synthétisé et commercialisé plus de 100 000 substances chimiques sans procédure d'autorisation de mise sur le marché. Les effets de ces substances sur la santé humaine sont donc particulièrement mal connus. L'article analyse tout d'abord l'évolution des stratégies politiques de contrôle de ces molécules depuis les années 1960. Il montre les différences d'approche entre les USA et l'Europe. Il s'attache ensuite à caractériser le processus qui a débouché sur l'adoption du Règlement REACH (décembre 2006) après de longues controverses et négociations. Cette régulation n'innove pas radicalement et elle reprend des processus déjà identifiés dans les politiques européennes. Mais REACH marque un certain nombre de changements significatifs liés à l'intégration du Principe de Précaution dans les politiques environnementales. En particulier il retient le renversement de la charge de la preuve (passant de l'acteur public à l'acteur industriel) pour la production de connaissances sur les substances potentiellement dangereuses. Le transfert d'une grande partie de l'action et de la responsabilité sur les industriels ne résout pas pour autant tous les problèmes de mise en œuvre et de réduction de l'incertitude.
Fichier principal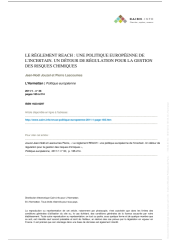 poeu-033-0185.pdf (190.33 Ko)
Télécharger le fichier
Origin : Explicit agreement for this submission