Sécularisation et orthodoxie dans la Russie contemporaine : pour une hypothèse continuiste ?
Due to the growing importance of religion in post-Soviet Russia and the prevalent place of the Orthodox Church in Russian politics, certain analysts have argued that Russia is undergoing a process of desecularization today. While this phenomenon is also occurring in other parts of the world, Russia is different from these cases--notably because of its sociopolitical history and its particular religious context. Instead of opposing this trend toward desecularization to the earlier trend toward secularization at the time of the Soviet Union, the emphasis is put on the continuity of governemental practices. Religion today has become an essential part of a mode of governing that was made possible through a form of identity-building reinvented by the elites. This mode of governing reflects to a certain extent the continuity of the Soviet mode of governing characterized by a non pluralist ideology.
Au vu des évolutions de la Russie postsoviétique et de la place qu'occupe l'Église orthodoxe dans la vie politique russe, de nombreux chercheurs ont mis en évidence un processus de désécularisation en Russie. Observable dans d'autres parties du monde, ce processus en cours présente cependant certaines spécificités en Russie, s'inscrivant à la fois dans une histoire sociopolitique et dans un contexte confessionnel particuliers. Plutôt que d'opposer ce processus de désécularisation au processus de sécularisation à l'oeuvre pendant la période soviétique, cette étude avance l'idée d'une persistance de pratiques de gouvernement. Le religieux est aujourd'hui l'élément intrinsèque d'un certain mode de gouvernement, rendu possible par une reconstruction identitaire entamée par les élites. Paradoxalement, ce mode de gouvernement s'inscrit, dans une certaine mesure, dans la continuité du gouvernement soviétique, marqué par une idéologie unanimiste.
Fichier principal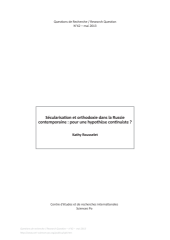 qdr42.pdf (379.64 Ko)
Télécharger le fichier
Origin : Explicit agreement for this submission