Analyse de réseaux et histoire
This review essay describes the results — and the limits — of studies applying network analysis to historical data. Most of the papers reviewed deal either with family and strong ties or with social and political movements. Research on the "world-system", citation studies and papers on interlocking directorates are more briefly described. The author promotes network analysis as a mere tool, complementary to other types of analysis. She points to the specific results of this technique, which may help to discover gaps and hierarchies inside networks, to study their construction and dynamics and the relationships between networks and identities.
Le propos est de présenter les outils proposés par l'analyse de réseaux, à partir d'exemples d'études qui les ont appliqués à des terrains historiques. L'article aborde l'histoire sociale et politique, ainsi que, plus ponctuellement, la géographie historique, l'histoire des savoirs et l'histoire des entreprises. Il plaide pour un usage raisonné de ces techniques, dont il présente les limites et les exigences en termes de sources. Il en souligne les apports pour une meilleure compréhension des hiérarchies et des fractures internes aux réseaux, de leur dynamique et de leur interaction avec les identités des acteurs sociaux.
Fichier principal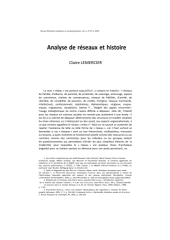 2005-lemercier-analyse-de-reseaux-et-histoire.pdf (583.32 Ko)
Télécharger le fichier
Origin : Files produced by the author(s)