Sens des responsabilités dans la gouvernance climatique
Since antiquity there have been philosophers who have argued that climates cause different people moral qualities. By contrast, the climate is now seen as global and shared, so that the States are called upon to responsibilities for the average global temperature. This article presents the climate system as a composite and shows that we are very far from understanding the interconnections of energy, water and what we call carbon exchanges. Climate warming is based on the measure of the average temperature of all the local temperatures in every parts of the globe. This temperature does not correspond to any immediate, physical, local and perceptible reality belonging to the realm of statistics. Even if we limit ourselves to the impact of human activities creating external and brutal forcing on the climate system, we are already within a space where different possible systems of responsibilities are in play. The text addresses in turn "the Common but Differentiated Responsibilities" normative framework (attribution modes of greenhouse gas production (GHG), criteria to be employed in assessing state as bearer of the burden and the mechanisms of participation in the fight against climate warming), the conceptual link to make between different types of justice in the mitigation (distributive) of GHG and adaptation (corrective) thanks to luck egalitarianism, and the issue of establishing an equilibrium in the allocation of responsibilities when they are collective and complex. This leads to a discussion of the background ethical theories and of the conceptions and functions of responsibility.
Dès l'Antiquité, certains philosophes attribuaient aux climats une responsabilité causale envers les qualités morales des peuples. Dans un mouvement inverse, le climat est devenu global et partagé. Il enjoint les États de prendre leurs responsabilités pour veiller sur sa température globale moyenne. L'article présente le système climatique, son caractère composite et montre qu'on est bien loin d'en comprendre les interactions et les échanges d'énergie, d'eau et de carbone. Le réchauffement climatique repose sur la mesure de la température moyenne de toutes les températures locales en tous les points du globe. Elle ne correspond pas à une réalité physique immédiate, locale et perceptible, mais elle est une grandeur statistique. Avec la seule considération des effets des activités humaines créant un forçage externe brutal sur le système climatique on ouvre déjà un espace où plusieurs systèmes de responsabilités possibles peuvent s'entremêler ou s'ajuster. Le texte traite tour à tour du cadre normatif de Responsabilités communes mais différenciées (modes d'attribution de la production des gaz à effet de serre (GES), critères d'entrée dans la liste des États supportant principalement l'effort contre le réchauffement climatique, et mécanismes de participation à cette lutte), du lien conceptuel à établir entre types de justice pour l'atténuation des GES (distributive) et l'adaptation (correctrice) grâce à une responsabilité visant l'égalité des chances, et du problème de différents équilibres dans le partage des responsabilités dans le cas de responsabilités collectives et complexes. Ce problème est traité par la considération des théories éthiques d'arrière-plan, des conceptions et des fonctions de la responsabilité.
Fichier principal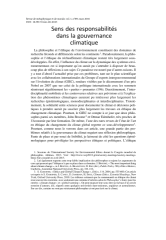 2016-reber-sens-des-responsabilites-dans-la-gouvernance-climatique.pdf (151.19 Ko)
Télécharger le fichier
Origin : Files produced by the author(s)