Une financiarisation à la française (1979-2009) : Mutations des grandes entreprises et conversion des élites
Changes in large firms and conversion of elites In recent decades, the share of the value produced by the largest listed companies has seen a dramatic change in favour of shareholders. However, to talk of financialization to describe this phenomenon runs the risk of imagining that finance was absent in the past and is now hegemonic. By systematically comparing data on these companies and their senior executives in 1979 and 2009, we show that the careers of senior executives have remained remarkably stable, and polarized by the division between financiers and others, even though the forms and business activities of financial companies have radically changed. Yet the changes in the share of value are not so much the result of these reconstructions of the perimeters or of the shareholders of companies as the effect of a conversion by their senior executives, through their experience of finance, to the norms of shareholder value.
Durant les dernières décennies, le partage de la valeur produite par les plus grandes entreprises cotées a connu une modification spectaculaire en faveur des actionnaires. Pour autant, parler de financiarisation pour décrire ce phénomène présente le risque d'imaginer une finance auparavant absente et désormais hégémonique. En comparant systématiquement des données portant sur ces entreprises et leurs dirigeants en 1979 et 2009, nous montrons que les carrières des dirigeants sont demeurées remarquablement stables, et polarisées par une opposition entre les financiers et les autres, alors même que les formes et les activités des entreprises financières changeaient radicalement. Pourtant, les transformations dans le partage de la valeur ne sont pas tant une conséquence de ces recompositions du périmètre ou de l'actionnariat des entreprises que l'effet d'une conversion de leurs dirigeants, passés par la finance, aux normes de la valeur actionnariale.
Fichier principal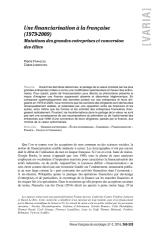 2016-une-financiarisation-a-la-francaise.pdf (2.57 Mo)
Télécharger le fichier
Origin : Publisher files allowed on an open archive