'Marée', 'charcuterie-traiteur'.
The authors study "traditional" hypermarket counters as places of mediation. Two of them have been chosen for their double asymmetry: the "fresh fish" counter, which sells the exclusivity of its products that are not highly processed, and the "pork butcher and delicatessen" counter, whose products–processed and standardized–are in competition with the packaged products available in self-service areas. Observation of interactions between salesmen and customers complemented with interviews made in about ten hypermarkets both in provincial towns and in the suburbs of Paris shows that there exists no analogy between the "traditional" counter and the small shop in the town center. The authors point out staging and experiments aiming at reformulating both the products' qualities and the consumers' competences. More generally, these actions contribute to reveal and shape by successive adjustments a demand that is necessary for a good working of this economic strategy.
Les auteurs s'intéressent aux rayons dits « traditionnels » des grandes surfaces, en tant que dispositifs de médiation. Deux rayons sont choisis en raison de leur double asymétrie : le rayon « marée » qui a l'exclusivité de ses produits, par ailleurs peu transformés, et le rayon « charcuterie-traiteur » dont les produits – transformés et standardisés – sont en concurrence avec ceux conditionnés et accessibles dans des rayons en libre-service. À partir de l'observation des interactions entre vendeurs et clients, complétée par des entretiens dans une dizaine de magasins en France (villes de province et banlieue parisienne), ils établissent l'absence d'analogie entre le rayon « tradition » et le petit commerce de centre-ville. Pour ce faire, les auteurs mettent en lumière des mises en scène et des expérimentations visant à reformuler les qualités des produits comme les compétences des consommateurs. De manière plus générale, ces dispositifs contribuent à révéler et à formater, par ajustements successifs, la demande ; ces processus s'avèrent nécessaires au bon fonctionnement de ce dispositif économique.
Fichier principal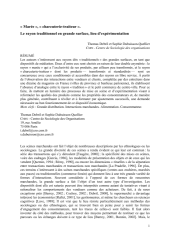 2005-debril-dubuissonquellier-mareecharcuterie.pdf (1.01 Mo)
Télécharger le fichier
Origin : Files produced by the author(s)