Régulation et compétition entre établissements scolaires dans six espaces locaux en Europe
According to this analysis of the dynamics of competition in six school zones in Europe (Charleroi, Budapest, Lisbon, London, Lille and the Paris area), secondary schools pursue "logics of action" that are shaped by an interdependence between local establishments. Parents' strategies for choosing a school rank establishments and lead to a competitive interdependence with a pattern and intensity that vary depending on the place — the major issue being the capacity to attract and retain pupils. A typology of these "logics" is proposed: establishments pursue a logic of conquest, profit from the status quo, diversification or adaptation depending on their local position and the intensity of competition. Questions are raised about the potentials and limits of public interventions for regulating this competitive interdependence. Competition, along with its deviant effects (segregation and inequality), arises out of the shortcomings and limitations of public interventions and out of the fragmentation of local regulations. A lack of coordination between the authorities in charge, between districts and between the public and private supply of education affects the development of opportunistic tactics by certain establishments. The conclusion draws attention to the need for coordinating regulations.
Cet article analyse les dynamiques de compétition qui traversent six espaces scolaires urbains (Budapest, Charleroi, Lille, Lisbonne, Londres, région parisienne) en Europe. Il montre que les logiques d'action des établissements secondaires y sont marquées par des relations d'interdépendance entre établissements locaux. Les stratégies de choix des parents distribuent les établissements dans des positions différenciées et construisent des interdépendances compétitives, d'intensité et configuration variables selon les espaces, dont l'enjeu principal est l'attraction et la rétention des élèves. L'article dresse ensuite une typologie de ces logiques. Il met en évidence que les établissements déploient des logiques de conquête, de rente, de diversification ou d'adaptation selon leur position dans l'espace local et selon l'intensité de la concurrence. La dernière partie s'interroge sur les potentialités et les limites de l'action publique de régulation de ces interdépendances compétitives. Elle montre que la compétition et ses effets pervers en termes de ségrégation et d'inégalités scolaires dérivent aussi des lacunes et limites de l'action publique et de la fragmentation effective des régulations locales. Elle souligne notamment les effets du manque de coordination entre autorités de tutelle, entre territoires et entre offre publique et offre privée sur le développement de logiques opportunistes par certains établissements et conclut au besoin d'une coordination des régulations.
Fichier principal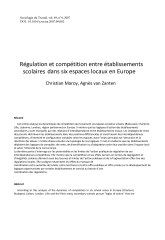 2007-maroy-van-zanten-regulation-et-competition-entre-etablissements-scolaires-vauteur.pdf (288.24 Ko)
Télécharger le fichier
Origin : Files produced by the author(s)