Governo collaborativo e catene relazionali di innovazione. Spunti a partire dal caso di Milano
This paper deals with the issue of social innovation at the urban scale and the role played by local governance to promote a positive ecosystem for development. After presenting third sector organizations as traditional subjects of social innovation, the paper focuses on the emerging forms of social innovation in the case of Milan and the role played by its local government in supporting a favourable milieu for it. We will show the relational mechanisms used to produce emulation among sectors and the chain of interactions which allowed to promote a local strategy for inclusion and job creation. The innovative integration mode produced in Milan in-between welfare and economic development can be seen as a source of learning. Nonetheless, its effects are limited by the lack of an integrated institutional framework of multilevel governance and subsidiarity.
L'articolo affronta il tema dell'emergere di esperienze di innovazione sociale a livello urbano e di quale ruolo possa giocare il governo urbano nella promozione di un ecosistema favorevole a questo sviluppo. Dopo un'introduzione sulla parabola del terzo settore come soggetto di innovazione sociale, verrà affrontato il tema di quali siano le caratteristiche delle forme emergenti di innovazione sociale, a partire dal caso milanese. Verrà quindi messo a fuoco il ruolo delle amministrazioni locali nella loro nascita e fioritura. Infine ci si soffermerà sui meccanismi relazionali messi in campo per produrre emulazione di settore in settore e creare catene di interazioni capaci di favorire una strategia globale di inclusione e contrasto alla disoccupazione. Il tipo di integrazione prodotta a Milano fra settore del welfare e settore dello sviluppo economico, e fra intervento e intervento, presenta molti tratti innovativi e forieri di apprendimenti. La sua efficacia risulta tuttavia limitata dall'assenza di un quadro compiuto di sussidiarietà, e dalla debolezza delle relazioni verticali fra livelli di governo.
Fichier principal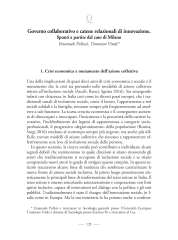 qrs-2-2017-sito-tema-e-polizzi-tomaso-vitale.pdf (306.31 Ko)
Télécharger le fichier
Origin : Publisher files allowed on an open archive