Le rapport de travail en France au XIXe siècle : un rapport marchand ?
Were labor relations in nineteenth-century France commercial relations? In the last decades, historical research has revised the classical vision of work in the nineteenth century, which was dominated by the ideas of paternalism, harsh discipline in factories and unlimited contractual "freedom." Labor relations were less durable, more insecure than we thought; negotiation was also possible and sometimes turned in favor of workers. Labor courts played a crucial role in opening such margins for favorable negotiations. They produced a "workers' law" that was distinct from commercial law, even though labor relations resembled commercial relations–especially in the context of the subcontracting chains that were typical of urban collective manufactures and rural proto-industry. Labor courts, however, were not accessible for all workers, many of whom could neither take part in the production of the "workers' law" nor benefit from its protection.
Les renouvellements de l'historiographie ont révisé une vision du travail au XIXe siècle qui était dominée par les modèles du paternalisme, de la discipline usinière et de la liberté de contrat sans limite. Ils décrivent des rapports de travail plus précaires mais aussi plus négociés, notamment dans le cadre des chaînes de sous-traitance complexes de la fabrique collective et de la proto-industrie. Les conseils de prud'hommes étaient en particulier un lieu de délibération sur des règles qui pouvaient dans une certaine mesure redresser le rapport de forces en faveur des ouvrier·es. Ces conseils produisaient un « droit des ouvriers », bien distinct de celui des marchands, même si les rapports entre ouvrier·es et patron·nes ressemblaient à des rapports marchands. Les conseils de prud'hommes étaient cependant loin d'être accessible à tou·tes les travailleur·ses manuel·les ; beaucoup ne pouvaient pas participer à l'élaboration de ce droit ni bénéficier de son application.
Fichier principal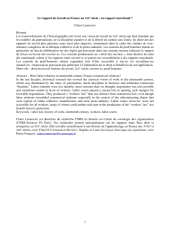 Lemercier droit travail final.pdf (412.47 Ko)
Télécharger le fichier
Origin : Files produced by the author(s)