Voter au loin : Dynamiques électorales transnationales dans la neuvième circonscription des Français de l'étranger
Voting Far Away. Transnational Electoral Dynamics in the Ninth Constituency of French Citizens Abroad -- While it often attracts media attention for its atypical aspects, the vote of French nationals abroad has rarely been the subject of in-depth fieldwork. This study of electoral dynamics in the ninth constituency of French citizens abroad (North Africa and West Africa) during the presidential and legislative elections of 2017 questions the constraints on the nomination process and candidacies, the transnational blurring of what is at stake during the election, and the effects of atypical campaigning in electoral archipelagos characterized both by their strong localism and their particular connection to broader geopolitical issues. This contribution shows how the meanings and stakes of extraterritorial voting are multivocal depending on the actors involved (candidates, voters, local media, authorities in the host country). Does overseas voting bring about a French community abroad or does it rather reveal the persistent differentiations at work between French communities according to origin, relationship to the "host" country and to "autochtony", social status and the temporality of integration abroad?
S'il attire souvent l'attention médiatique pour son caractère atypique, le vote des Français de l'étranger a rarement fait l'objet d'enquêtes de terrain. L'étude des dynamiques électorales dans la neuvième circonscription des Français de l'étranger (Afrique du Nord et Afrique de l'Ouest) lors des élections présidentielle et législatives de 2017 permet d'interroger les questions de « l'éligibilité » à l'étranger, des brouillages transnationaux du vote et des effets des modalités spécifiques du « faire campagne » dans des archipels électoraux caractérisés à la fois par leur fort localisme et leur insertion particulière dans des enjeux géopolitiques plus larges. Elle montre combien les sens et enjeux du vote extraterritorial sont à entrées multiples selon les acteurs impliqués (candidats, électeurs, médias locaux, autorités du pays hôte). Ce vote à l'étranger fait-il exister une communauté française à l'étranger ou révèle-t-il surtout les différenciations persistantes à l'œuvre entre communautés françaises selon l'origine, le rapport au pays « hôte » et à l'« autochtonie », le statut social et la temporalité de l'ancrage à l'étranger ?
Fichier principal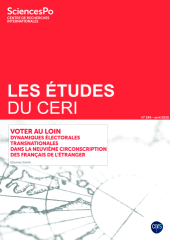 2020-04-smith-etudes-du-ceri-249.pdf (1.47 Mo)
Télécharger le fichier
Origin : Publisher files allowed on an open archive