La TVA sociale peut-elle relancer l'économie ?
Social VAT denotes a decrease in social insurance contributions funded by an increase of VAT. Its social gains depend first on the substitutability of capital and labor as inputs. Taxing labor less and capital more induces a decrease in the relative price of labor and the substitution of capital by labor in the production process. However, this substitutability is difficult to estimate and estimations in the economic literature vary widely. Secondly, social VAT would allow a decrease in social contributions for firms producing in France and increase the VAT for firms selling in France. In sum, the reform is equivalent to a small competitive devaluation. It is an advantage for local firms, but a weak one and in a heterogeneous manner. The redistributive impact due to price increases of imported goods is difficult to estimate because it depends on the actual consumption of each individual.
La " TVA sociale " consiste en une baisse des cotisations sociales financée par une augmentation de la TVA. Le gain d'une réforme de ce type dépend tout d'abord de la substituabilité entre le capital et le travail comme facteurs de production : taxer moins le travail et plus le capital rend le travail moins cher relativement au capital et les producteurs devraient substituer l'un à l'autre. Or, cette substituabilité est un paramètre difficile à estimer et sur lequel les études empiriques divergent. La TVA sociale permettrait également une baisse de cotisations sociales pour toutes les entreprises produisant en France et une hausse de TVA pour toutes les entreprises vendant en France. L'effet, équivalent à celui d'une dévaluation compétitive de faible envergure, serait globalement bénéfique pour la production nationale. Il serait cependant limité et hétérogène. L'impact redistributif de la hausse des prix des produits importés, probablement non négligeable, est difficile à estimer puisqu'il dépend des consommations individuelles.
Fichier principal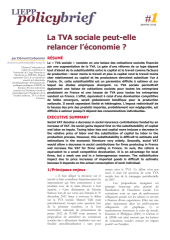 liepp-pb-1-tva-sociale.pdf (1.18 Mo)
Télécharger le fichier
Origin : Explicit agreement for this submission