De la stagflation à la dépression
The relative success of anti-inflationary policies and the excessive attention to short-term tend to conceal the trend evolutions of developed economies. Political consensus in favour of restoring the so-called « major (financial ?) equilibria » suppresses any discussion of the causes of the continuing worsening of unemployment in Europe — a truly fondamental problem In our interpretation — a Keynesian one since only this theory addresses the issue of unvoluntary unemployment — the economic developments of the past fifteen years have been cumulative and self- feeding. Following various shocks — whose double nature of demand and supply shocks has not always been perceived — , global and structural disequilibria concur and are mutually reinforcing in a process of downward quantitative adjustments which produces first stagflation, then depression. Private and public agents' non-cooperative behavior aggravate these tendancies. When experiencing sustained demand on their markets, coalitions of suppliers feed inflation by over-indexing prices. Following the second oil shock, the generalized inversion of policy priorities, leading to desinflation by means of decreasing demand, gives international economic relations a non-cooperative character of competition through depression. Only the restatement of the natural pre-eminence of employment and growth objectives would permit the international coordination of expansionist macroeconomic policies, capable of reversing these perverse processes.
Le relatif succès de la lutte contre l'inflation et l'attention excessive portée à la courte période tendent à masquer les évolutions tendancielles des économies développées. Le consensus politique autour de l'idée du rétablissement des « grands équilibres » fait que les raisons de l'aggravation continue du chômage en Europe — problème fondamental s'il en est — ne sont pas débattues. Dans notre interprétation — keynésienne, puisque seule cette théorie traite du chômage involontaire — les évolutions économiques des quinze dernières années ont un caractère cumulatif et auto-entretenu. Les déséquilibres global et structurels résultant des différents chocs — dont la double nature de chocs d'offre et de demande n'a pas toujours été perçue — se conjugent et s'aggravent mutuellement dans un enchaînement d'ajustements quantitatifs à la baisse, qui produit dans un premier temps la stagflation, puis la dépression. Les comportements non-coopératifs des agents privés et publics renforcent ces tendances. En période de demande soutenue sur leurs marchés, les coalitions d'offreurs alimentent l'inflation par la surindexation des prix. L'inversion quasi-générale, à la suite du second choc pétrolier, des priorités de la politique économique, en conduisant à la désinflation par une demande décroissante, confère aux relations économiques internationales un caractère non-coopératif de concurrence par la dépression. Seule la réaffirmation de la primauté des objectifs de croissance et d'emploi permettrait la coordination internationale de politiques macroéconomiques d'expansion, nécessaire pour inverser ces enchaînements pervers.
Fichier principal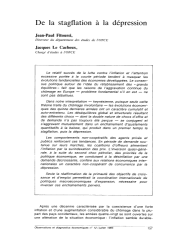 1985-07-fitoussi-de-la-stagflation-a-la-depression.pdf (1.77 Mo)
Télécharger le fichier
Origin : Publisher files allowed on an open archive