Writing IR after COVID-19: Reassessing Political Possibilities, Good Faith, and Policy-Relevant Scholarship on Climate Change Mitigation and Nuclear Disarmament
To address the COVID-19 pandemic, states around the world adopted a range of unprecedented and far-reaching policy measures, which had for a long time been presented as impossible. In this article, we argue that such actions suggest not only present but also past political possibilities and that these possibilities have been overlooked or denied by policymakers and scholars alike. We focus on two existential challenges about which pledges for transformative actions have been continuously made throughout the previous decades: climate change and the danger from nuclear weapons. We document the gap between pledges and accomplishments in these two realms and show how claims of impossibility to act do not hold up. Adopting a minimal standard of good faith as seeking to keep one's promises, we argue that the lack of adequate action renders the assumption that policymakers are acting in good faith problematic. We then diagnose a Panglossian double failure of the policy-relevant international relations scholarship: a failure to provide policymakers with the necessary tools to address the root causes of these existential problems and enable them to learn from past experiences and a failure to hold policymakers accountable. We propose three modifications to the scholarship to avoid repeating such failures and conclude with a dual call for political courage and scholarly responsibility.
Con el fin de hacer frente a la pandemia de COVID-19, los Estados de todo el mundo adoptaron una serie de medidas políticas sin precedentes y de gran alcance, las cuales se habían considerado imposibles durante mucho tiempo. En este artículo, argumentamos que estas acciones sugieren posibilidades políticas, no solo actuales sino también pasadas, que habían sido ignoradas o rechazadas tanto por los responsables políticos como por los académicos. Nos centramos en dos retos existenciales sobre los cuales se habían prometido, continuamente, acciones transformadoras a lo largo de las décadas anteriores: el cambio climático y el peligro de las armas nucleares. Documentamos la brecha entre las promesas y los logros en estos dos campos y mostramos como los argumentos acerca de la imposibilidad de actuar no se sostienen. Argumentamos, adoptando un estándar mínimo de buena fe consistente en el intento de cumplir las promesas propias, que la falta de acciones adecuadas provoca que la presunción de que los responsables políticos actúan de buena fe resulte problemática. Posteriormente, diagnosticamos un doble fracaso panglosiano de la literatura académica de las RRII relevantes para la política: un fracaso en proporcionar a los responsables políticos las herramientas necesarias para hacer frente a las causas fundamentales de estos problemas existenciales y permitirles aprender de experiencias pasadas y un fracaso en hacer responsables a los responsables políticos. Proponemos tres modificaciones a la literatura académica con el fin de evitar la repetición de estos fracasos y concluimos con una petición doble de valentía política y responsabilidad académica.
Face à la pandémie de COVID-19, les États du monde entier ont adopté un éventail de mesures politiques importantes et sans précédent, longtemps considérées impossibles. Dans cet article, nous affirmons que ces actions suggèrent des possibilités politiques actuelles, mais aussi passées, qui ont été négligées ou niées tant par les législateurs que par les chercheurs. Nous nous concentrons sur deux défis existentiels qui ont constamment fait l'objet de promesses de mesures transformatrices ces dernières décennies : le changement climatique et le danger des armes nucléaires. Nous documentons l'écart entre les promesses et les accomplissements dans ces deux domaines avant de montrer que les déclarations d'impossibilité ne se tiennent pas. Un niveau minimum de bonne foi étant certainement nécessaire pour tenir des promesses, l'absence de mesures adéquates remet en question selon nous l'honnêteté des législateurs. Nous établissons ensuite un diagnostic de double échec panglossien des travaux de rechercher de RI s'intéressant à la politique : l'incapacité de fournir aux législateurs les outils nécessaires pour s'attaquer aux causes profondes des problèmes existentiels et apprendre des expériences passées, mais aussi l'incapacité de les responsabiliser. Nous proposons trois modifications à la discipline pour éviter de renouveler ces échecs avant de conclure par un double appel : au courage politique et à la responsabilité académique.
Fichier principal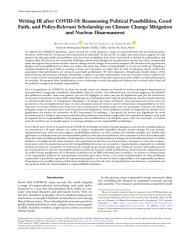 2023_Pelopidas_Verschuren_Writing_IR_after_COVID_19.pdf (922.54 Ko)
Télécharger le fichier
Origin : Publication funded by an institution
licence : CC BY - Attribution