Le parti communiste de la RDA et l'eurocommunisme
THE COMMUNIST PARTY OF THE DDR AND EUROCOMMUNISM - The East German Communist Party, the SED, might have been expected to fall in unhesitatingly behind the Communist Party of the Soviet Union and its unconditional allies when the latter launched their polemical attacks on the Eurocommunists. After all, surely the SED subscribes to the essential principles of Soviet communism and the political line laid down by the Soviet Communist Party. Yet this is not the case. The SED has adopted an extremely reserved stance in this quarrel and, what is more, it seems to be on good terms with the Communist Parties of Western Europe. Could it be that it nourishes Eurocommunist tendencies, or should this be interpreted as a tactical manœuvre designed perhaps to preserve the unity of the international communist movement ?
On aurait pu penser que le SED, le Parti communiste est-allemand, se serait joint sans hésiter au Parti communiste de l'Union soviétique et à ses alliés inconditionnels lorsque ceux-ci déclenchèrent leurs attaques polémiques contre les eurocommunistes. Le SED n'épouse-t-il pas, en effet, les principes essentiels du communisme soviétique et la ligne politique définie par le PCUS ? Or, il n'en est rien. Le SED a fait preuve de la plus grande retenue dans cette querelle et, plus encore, il paraît entretenir de bonnes relations avec les partis communistes d'Europe occidentale. Se pourrait-il qu'il nourrisse des tendances eurocommunistes ou faut-il voir là une manœuvre tactique destinée peut-être à préserver l'unité du mouvement communiste international ?
Fichier principal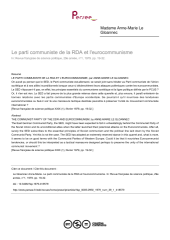 article-rfsp-0035-2950-1979-num-29-1-418579.pdf (1.15 Mo)
Télécharger le fichier
Origin : Explicit agreement for this submission