Que veut la Chine ? Que peut-elle donc ?
What does China want ? What are its capabilities ? - The new direction in Chinese foreign policy since 1979 has stratégie implications. It has led to changes in China's relations with the two superpowers and thus to changes in Peking's medium-term objectives. Now that national security seems less threatened, priority is being given to goals of modernisation and independence. Today, the Chinese foreign policy offensive aims to revitalise the stratégie triangle, penetrate the Third World and consolidate its régional influence. However, because of the weakness of their resources and the external obstacles, the effects of this change in policy have so far been limited.
Le visage de la diplomatie chinoise depuis 1979 a une valeur stratégique puisqu'il entraîne une modification des rapports entre la Chine et ses deux grands partenaires et le changement des objectifs à moyen terme de Pékin : la modernisation et l'indépendance reçoivent aujourd'hui la priorité alors que la sécurité du pays paraît moins menacée. La diplomatie chinoise développe aujourd'hui une offensive pour revitaliser le triangle stratégique, percer dans le Tiers-Monde et consolider son influence régionale. Mais la faiblesse de ses moyens et l'importance des obstacles extérieurs en réduisent les effets.
Fichier principal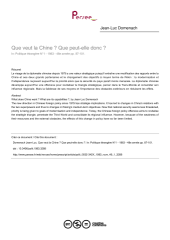 article-polit-0032-342x-1983-num-48-1-3288.pdf (1.25 Mo)
Télécharger le fichier
Origin : Explicit agreement for this submission