L'Allemagne et l'après-Yalta ou les hauts et les bas d'un double anniversaire
A Review of Ups and Downs in Post-Yalta Germany on its Double Anniversary, by Anne-Marie Le Gloannec - The policy of progress by small steps and concessions inaugurated by the Social Démocratie and Liberal Coalition and folio wed since 1982 by the Conservative/Liberal Coalition created a solid network of ties between the two Germanies which has proved robust. Instead of freezing inter-German relations after the installation of American missiles in the Federal Republic, East Berlin chose to intensify ties with Bonnu and even to allow East Germans easier access to the West. Was this direct consequence of West German concessions, the change induced by closer relations for which Egon Bahr had hoped? The present hardening of attitudes shows the limitations of those policies: how much change and rapprochement has the Egon Bahr formula in fact produced? When will the real change and rapprochement take place between the two Germanies?
La politique des petits pas et des concessions, inaugurée par la coalition social-démocrate et libérale et poursuivie par la coalition conservatrice et libérale à partir de 1982, avait permis de tisser un dense réseau de liens interallemands qui n'avaient pas lâché au cœur de la seconde guerre froide des années 80. Au lieu de geler les relations interallemandes après que le Bundestag eut accepté de déployer les fusées américaines sur le sol de République fédérale, le gouvernement de Berlin-Est préféra intensifier ses relations avec Bonn et même laisser les Allemands de l'Est se rendre plus facilement à l'Ouest. Etait-ce la conséquence immédiate des concessions ouest-allemandes, le changement induit par le rapprochement qu'Egon Bahr avait souhaité ? Le raidissement actuel démontre les limites de la politique d'alors que des ambiguïtés sous-tendaient : quel changement et quel rapprochement implique la formule d'Egon Bahr ? A quel point les Allemagnes doivent-elles se rapprocher et à quel point changer ?
Fichier principal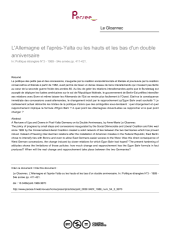 article-polit-0032-342x-1989-num-54-3-3870.pdf (1.07 Mo)
Télécharger le fichier
Origin : Explicit agreement for this submission