Amérique centrale : de la fin de la crise régionale à la poursuite des crises locales
The electoral defeat of the Sandinistas during the February 1990 elections in Nicaragua marked the end of the central American regional crisis. This regional crisis had mainly subjective causes given the fact that the other four central American governments, under the influence of the Reagan administration, had decided that the Sandinista revolution was responsible for all the political and economic troubles of the region. However, the end of this regional crisis does not preclude the prolongation of local conflicts - in El Salvador or Guatemala - insofar as their objective causes have not been eliminated.
La crise régionale en Amérique centrale a pris fin avec la défaite des Sandinistes lors des élections de Février 1990 au Nicaragua. Cette crise régionale avait des causes essentiellement subjectives dans la mesure où ce sont les gouvernements des quatre autres pays d'Amérique centrale qui, sous l'influence des Etats-Unis de Reagan, ont décidé que la révolution sandiniste était responsable de tous les problèmes économiques et politiques de la région. Dès lors la fin de cette crise régionale n'empêche pas la prolongation des conflits locaux - au Salvador et au Guatemala -, leurs causes objectives n'ayant pas été supprimées.
Fichier principal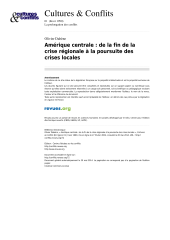 conflits-72-01-amerique-centrale-de-la-fin-de-la-crise-regionale-a-la-poursuite-des-crises-locales.pdf (120.79 Ko)
Télécharger le fichier
Origin : Explicit agreement for this submission