La crise des relations professionnelles en Allemagne de l'Est et l'évolution de la négociation paritaire allemande
The Industrial Relations Crisis in East Germany and the Evolution of German Joint Negotiation - The centralized transfer of West German institutions to East Germany provoked the emergence of numerous obstacles. In the case of industrial relations, the rules of collective negotiation have been profoundly modified, lowering the neo-corporist nature of the German institutional game. This is due to the nature of the industrial actors, to the situations of the companies, and the content of the negotiations. Despite the obstacles, the unions have been a major innovating social actor, and the deregulations that have taken place locally in East Germany have prefigured those commended in the West part of Germany as a whole. The debate initiated in the 80's about the right level of collective negotiation has therefore been revived, but under new modalities.
Le transfert centralisé des institutions ouest-allemandes en Allemagne de l'Est a provoqué l'émergence de nombreux obstacles. Dans le cas des relations professionnelles, les règles de la négociation collective ont subi de profondes modifications, infléchissant ainsi la nature néo-corporatiste du jeu institutionnel allemand. Cela a tenu autant à la nature des partenaires sociaux, qu'à la situation des entreprises, ou encore au contenu des négociations. En dépit des difficultés, les syndicats sont apparus comme un acteur social innovant de premier plan, et les dérégulations qui ont vu le jour localement en Allemagne de l'Est ont préfiguré celles prônées à l'Ouest pour l'Allemagne entière. Le débat initié dans les années quatre-vingt concernant le niveau pertinent de la négociation collective s'est trouvé ainsi relancé, mais selon des modalités particulières où la branche semble pouvoir de moins en moins jouer un rôle homogénéisateur.
Fichier principal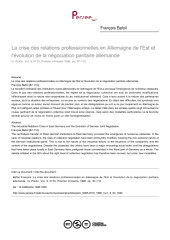 article-polix-0295-2319-1996-num-9-33-1939.pdf (2.45 Mo)
Télécharger le fichier
Origin : Explicit agreement for this submission