Un bilan du divorce tchéco-slovaque : Transition démocratique et construction d'États-nations
[An assessment of the Czechoslovakian divorce. Transitions to democracy and nation-state building] The partition of Czechoslovakia can be explained from four points of view. First, Czechs and Slovaks did not share a common historical memory. Second, they had a different relationship to modernisation. Third, the state remained highly centralised because of the Czechs' Jacobin inclination. Four, politicians instrumentalised ethno-nationalist issues in the framework of the post-communist electoral competition. While the choice of the Czechs seemed to be justified by their successful transition to a market economy and their gradual integration into the European Union, the 1998 elections showed that the régime had not been that successful, either economically or politically. In Slovakia, which had previously suffered from a democratic deficit and an obsessive nationalism, the electoral defeat of Meciar points to a more progressive political path, and one more acceptable to the EU.
Quatre hypothèses peuvent expliquer le divorce tchéco-slovaque : 1) Tchèques et Slovaques ne partageaient pas la même histoire ; 2) ils avaient un rapport différent à la modernisation ; 3) l'Etat restait fortement centralisé du fait du penchant des Tchèques au jacobinisme ; 4) les politiciens ont instrumentalisé le nationalisme dans le cadre de la compétition électorale post-communiste. Alors que le choix des Tchèques semblaient être justifié par leur transition réussie vers une économie de marché et par leur intégration progressive dans l'Union européenne, les élections de 1998 ont montré que "le miracle tchèque" n'a pas eu lieu, tant sur le plan économique que sur le plan politique. En Slovaquie, où l'on avait auparavant souffert d'un "déficit démocratique" et d'un nationalisme obsessionnel, la défaite de Meciar laisse espérer une voie politique plus modérée et plus acceptable pour l'Union européenne.
Fichier principal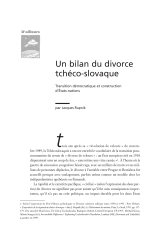 ci02p91-115.pdf (117.41 Ko)
Télécharger le fichier
Origin : Explicit agreement for this submission