Italie : un système de pouvoir en procès
[Italy : a system of governance on trial] Andreotti's trial has revealed long standing links between Italian politicians and the mafia. Such a trial has become possible because of the conjunction of two relatively independent processes : first, the crystallisation - mainly through the antimafia parliamentary commissions - of a new interpretation of the mafia based upon its collusion with the political sphere ; second, the propagation of a new culture of activism in the judiciary. As a result, relations between politicians and the mafia have become a public issue. New debates have thus discredited the system of governance symbolized by Andreotti and at the same time have given more acceptance to an analysis of the Italian " First Republic " which stresses its hidden, dark face.
Le procès qui se tient actuellement contre Andreotti, l'un des principaux dirigeants de l'Italie républicaine, révèle l'existence de liens durables entre une partie du monde politique et le monde criminel. Il a été rendu possible par la rencontre de deux processus relativement indépendants : la constitution, à travers notamment l'activité des Commissions parlementaires antimafia, d'un modèle d'analyse de la mafia fondé sur ses collusions avec les pouvoirs officiels ; la diffusion au sein d'une partie de la magistrature de répertoires d'action qui ont permis de lutter efficacement contre le pouvoir mafieux. La question des relations entre mafia et politique a ainsi pu émerger dans l'arène judiciaire, aboutissant à discréditer le système de pouvoir dont Andreotti était l'un des symboles mais aussi à accréditer les versions de l'histoire de la " Première république " italienne qui privilégient ses aspects occultes.
Fichier principal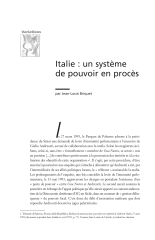 ci03p141-154.pdf (80.98 Ko)
Télécharger le fichier
Origin : Explicit agreement for this submission