Atomisation des fins et radicalisme des moyens : De quelques conflits africains
[The atomization of ends and the radicalism of means. On certain African conflicts] The long war of liberation in Eritrea and today's war in Kivu provide two illustrations of a possible explanation for the extreme violence that occurs in numerous contemporary conflicts, most notably (but not only) in Africa. This involves, on the one hand, the disparity between local rationalities and the stated aims of "national" leaders and, on the other, a weak or destabilizing experience of the state among those involved in armed movements. Thus combatants often engage in war for perfectly "rational" reasons; however, as the conflict drags on, they find it difficult to construct clear political objectives. Societies or groups living in the midst of the most murderous conflicts rarely remain inert; they attempt, with varying and extremely fragile success rates, to reconstitute social bonds that war has destroyed.
La longue guerre de libération de l'Érythrée et celle, aujourd'hui, du Kivu fournissent deux illustrations de ce qui est peut-être une explication de la violence extrême observée dans maints conflits contemporains, notamment (mais pas seulement) africains : d'une part, la déconnexion entre des rationalités locales et les buts affichés par les leaders "nationaux" ; d'autre part, une expérience de l'État faible ou déstabilisante chez les acteurs des mouvements armés qui, souvent, ont basculé dans la guerre pour des motivations parfaitement "rationnelles" pour ensuite, au fil du conflit, peiner à construire un objectif politique aisément déchiffrable. Reste que les sociétés ou les groupes qui sont au cœur des conflits les plus meurtriers font rarement le choix de l'anomie et essaient, avec des succès divers et le plus souvent extrêmement fragiles, de reconstituer un lien social que la guerre a dissous.
Fichier principal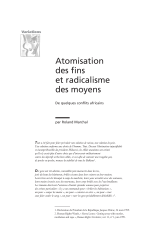 ci06p159-175.pdf (97.04 Ko)
Télécharger le fichier
Origin : Explicit agreement for this submission