Mobilisations des migrants en Europe : du national au transnational
Transnational Solidarities of Migrants in Europe - A comparative study on the settlement of immigrants in different European countries emphasizes the " models " that each country develops as the way to deal with a minority group. These models based on each country's political traditions and its conception of nationhood and citizenship obviously has an effect upon immigrants, leading to their mobilization through the creation of voluntary associations. The result might be called the " nationalisation " of their political action. Projects for European Unity however, challenge the validity of these national models. In fact, migrants or minorities (the terminology varies from one country to another) are developping new networks based on their nationalily (actual or of origin), their religion or race in order to promote their political participation beyond national boundaries. Their aim is the search for representativity on a European level.
Il est devenu habituel d'opposer des " modèles " nationaux lorsqu'il s'agit de comparer les formes d'organisation et d'intégration des migrants des années 1960 installés dans différents pays européens. Ces modèles fondés sur les traditions politiques et les relations que chacun des états entretient avec les populations en situation de minorité (religieuse, ethnique, raciale) influencent la mobilisation des populations en question. En effet, leurs modes de mobilisation dénotent dans chacun des pays l'intériorisation des normes et des conduites politiques propres à chacun des pays et soulignent dès lors la " nationalisation " de leurs actions. Or, la construction de l'Europe remet en cause la validité et la pertinence des modèles. Le mode de participation politique des populations issues de l'immigration trouve un appui dans ce nouvel espace politique qui favorise les solidarités transnationales en fonction de la nationalité (actuelle ou d'origine), la religion, ou la " couleur ". Les actions qui les accompagnent contournent les politiques nationales pour aboutir à une représentativité au niveau européen.
Fichier principal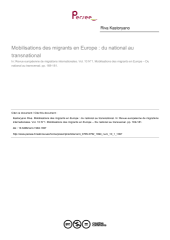 article-remi-0765-0752-1994-num-10-1-1397.pdf (1.11 Mo)
Télécharger le fichier
Origin : Explicit agreement for this submission