Guru et politique en Inde. Des éminences grises à visage découvert ?
Guru and Politics in India: Uncovered "Eminences Grises" ? - In ancient India, the Hindu king was guided by a spiritual counsellor, a guru. This tradition receded in the background after independence because of the secularisation of the state. Yet, politicians, like Indira Gandhi, have continued to cultivate close relationships with guru, and have even occasionnally publicised this relationship when such a move helped them to improve their image. Such relationships were not legitimate in two cases only, that of the tantric guru and that of men with some underground connection. The conception of power that the RSS (Rashtriya Swayamsevak Sangh, Association of National Volunteers) has developed directly derives from the traditional pattern of a king and his guru. Since its inception, the RSS aimed at becoming the Raj guru of the Indian state. The rise to power of the BJP in 1998 enables it to play such a role today. After doing so in the background for long, the RSS is now coming forward because the Prime minister Atal Bihari Vajpayee try to benefit from his association with an organisation which is well known for its Hindu nationalist ideology and integrity. The secrecy of the relation between politicians and guru therefore, is not imperative. It may be publicised for strengthening the legitimacy of the former.
La configuration classique du pouvoir en Inde associe au souverain un conseiller spirituel de caste brahmane. Ce schéma traditionnel a perdu tout droit de cité dans le cadre de la sécularisation de l'Etat après 1947. Néanmoins, des hommes politiques, comme Indira Gandhi, ont continué d'entretenir d'étroites relations avec leur guru et ont volontiers rendues publiques ces relations lorsque cela améliorait leur popularité. En fait, de telles relations se révélaient illégitimes lorsque les guru en question étaient des tantriques ou lorsqu'ils entretenaient des liens illicites avec le monde criminel. Le rapport au pouvoir qu'entretient le RSS (Rashtriya swayamsevak sangh, Association des volontaires nationaux) est calqué sur le modèle traditionnel puisque cette organisation se veut le guru du pouvoir. L'accès de " son " parti politique, le BJP, au gouvernement lui en donne la possibilité depuis 1998. Après s'être contenté de conseiller le pouvoir en coulisses, le RSS sort de plus en plus de l'ombre en partie parce que le premier ministre Vajpayee peut trouver avantage à se prévaloir de ses liens privilégiés avec une organisation connue pour sa pureté doctrinale et son intégrité. Le caractère secret des guru modernes est donc à géométrie variable, que les guru en question soient des individus ou, comme dans le cas du RSS, des collectifs.
Fichier principal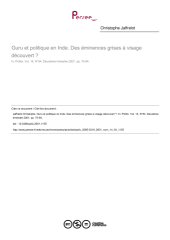 article-polix-0295-2319-2001-num-14-54-1155.pdf (1.65 Mo)
Télécharger le fichier
Origin : Explicit agreement for this submission