Quel islam en Bulgarie post-communiste ?
Since the fall of communism in 1989, identity movements with a religious dimension have been at work in Bulgaria. However they are neither uniform nor systematically radical. To understand their origin, one must go back to the middle 1980s, when the regime of Todor Živkov launched a violent campaign of forced assimilation of the Bulgarian Turks. The new emphasis put on identity markers, and the rediscovery of specific cultural and religious roots then appeared as a survival strategy. The opening of the country to the influence of non Balkanic Muslim currents after 1989 has deepened the reflexion about faith. Although the restitution of their civil rights and liberties to minorities has made it possible to turn the page of the period of forced assimilation, there remains a sharp sensitivity to the specific identity of Muslims in an Orthodox country. While it is an answer to the challenge of transition, this new interest for the religious does not represent an anti-modernist calling into question of the achievements of the precedent period. Rather, it represents the search for a new synthesis aiming to incorporate a growing respect for religious identity in a context of consumerist modernity and mobility. Today, the Muslim community remains attached to a Balkanic Islam, perceived as European. Only a prolonged and generalized crisis in the Balkans could, in the long term, alter these collective choices.
Depuis la chute du communisme en 1989, on observe, en Bulgarie, des recompositions identitaires à fondement religieux ; mais celles-ci ne sont toutefois ni uniformes, ni systématiquement radicales. Pour en retracer les origines, il faut remonter au milieu des années 1980, à l'époque où le régime de Todor Živkov avait entrepris l'assimilation violente des Turcs bulgares. La revalorisation des marqueurs d'appartenance distinctive et la redécouverte de racines culturelles et religieuses spécifiques étaient alors apparues comme autant de stratégies de survie. L'ouverture du pays sur des islams non-balkaniques après 1989 a rendu particulièrement sensibles les interrogations sur la foi. Et si la restitution des droits et libertés des minorités a permis de tourner la page de la période d'assimilation forcée, une sensibilité aiguisée demeure aux spécificités identitaires des musulmans dans un pays majoritairement orthodoxe. Réponse aux défis de la transition, l'intérêt nouveau pour le religieux n'équivaut cependant pas à une remise en question anti-moderniste des acquis de la période précédente. Il s'agit plutôt d'efforts de synthèse visant à incorporer dans une modernité et une mobilité consuméristes un respect accru pour l'identité religieuse. À l'heure actuelle, la communauté musulmane reste attachée à un islam balkanique perçu comme européen. Seule une exposition prolongée à une crise généralisée dans la péninsule balkanique pourrait, à terme, modifier ces choix collectifs.
Fichier principal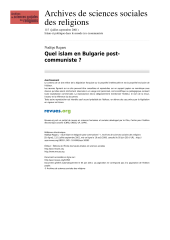 assr-18393-115-quel-islam-en-bulgarie-post-communiste.pdf (343.15 Ko)
Télécharger le fichier
Origin : Explicit agreement for this submission