L'avenir des protectorats internationaux sur les Balkans
[The future of international protectorates in the Balkans. Independent International Commission on Kosovo] Why conditional independence? The follow-up of the Kosovo report The Independent International Commission on Kosovo, created in 1999 by the Swedish government and co-presided by Richard Goldstone and Carl Tham, came to the conclusion in its October 2000 report that the NATO intervention was legitimate, although illegal, and that the aim of establishing an international protectorate that was a consequence of it should be the "conditional independence" of Kosovo. One year later, in Fall 2001, it considers that the situation has evolved in a way that confirms the wisdom of its analyses. The fall of Milosevic and the decline of violent nationalistic movements obvious in the recent elections in various parts of ex-Yugoslavia, far from justifying passivity from the international community, obliges it to seize the opportunity to discuss the final status of Kosovo in the best possible conditions. This independence should be conditional, with shared sovereignty. Indeed, all national sovereignties in the 21st century are shared in some way.
On croit trop souvent en Occident que l'ouverture de la Chine aux nouvelles technologies de l'information et de la communication (NTIC) débouchera sur l'assouplissement du régime autoritaire. En réalité, les règles de l'OMC ne sont pas faites pour obliger un Etat membre à respecter les droits de l'homme et ne peuvent guère être "détournées" à cette fin. En outre, l'architecture d'Internet, conçue pour exploiter commercialement les données concernant les utilisateurs, est parfaitement utilisable à des fins de surveillance politique. Enfin, lorsque les citoyens chinois utilisent "librement" Internet, c'est le plus souvent au bénéfice d'un nationalisme exacerbé, certes encouragé par les autorités, mais qui dépasse parfois leurs intentions. Dans ce contexte, le renforcement de la coopération de sécurité entre Etats, démocratiques ou non, induit par le 11 septembre peut inquiéter. Néanmoins, il est possible d'imaginer une voie réaliste (partant des intérêts bien compris des Etats) pour la régulation mondiale des NTIC, selon le principe même qui donne naissance au droit international en général.
Fichier principal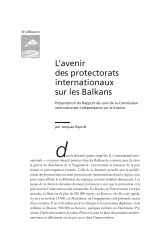 ci16p85-115.pdf (150.45 Ko)
Télécharger le fichier
Origin : Explicit agreement for this submission