Le Partenariat en réanimation bureaucratique
[The Partnership on bureaucratic life-support] The Euro-Mediterranean Partnership, established by the Barcelona Declaration in November 1995 in order to channel dialogue and cooperation between the European Union and countries of the Southern Mediterranean shore, is actually more of a virtual than a political discourse, sustained only through the bureaucracy. Due to a lack of shared vision, a basic disinterest on the part of the EU member-states for the matter, and the hybrid nature of the arrangement, it is paradoxically the bureaucratic machines that keep alive an ailing process disconnected form reality and, in fact, widely criticized. It is true, in counterpoint, that the preeminence of bureaucratic and administrative rationales is largely responsible for the deadlock this Partnership, a distorted and empty shell, has experienced.
Le Partenariat euro-méditerranéen, dont le texte fondateur est la Déclaration de Barcelone (novembre 1995), censé organiser le dialogue et la coopération entre l'Union européenne et les pays de la rive Sud de la Méditerranée, est en réalité un discours magique plus que politique, qui ne vit que par la bureaucratie. Du fait de l'absence de vision partagée, du désintérêt fondamental des États membres de l'UE pour la question et du caractère hybride du dispositif, ce sont paradoxalement les machines bureaucratiques qui assurent la pérennité d'un processus languissant, déconnecté des réalités et, au demeurant, largement critiqué. Il est vrai qu'en retour la prééminence des logiques bureaucratiques et gestionnaires est certainement à l'origine des blocages, de la vacuité et surtout de la perversion du Partenariat.
Fichier principal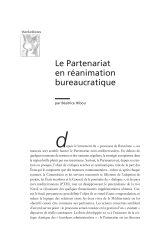 ci18p117-128.pdf (79.99 Ko)
Télécharger le fichier
Origin : Explicit agreement for this submission