Le cheminement singulier de la violence islamiste en Algérie
Islamist violence in Algeria has so far been unaffected by suicide attacks. Actually, aspirants to "martyrdom" are characterized by the conviction they are "pure" in a soiled world. But Islamist combatants in Algeria have always defined themselves as "the just," rather than the "pure," fighting for change here on earth. The state, likened to the Devil, must be conquered by a guerrilla that enjoys the "people's" support and be replaced by an Islamic regime. Since the "people" did not meet the guerrilla's expectations, some groups have reacted by slaughtering civilians, justifying this action by representing their country not as a land of Islam but as a land of Jihad peopled by renegades. This policy has been counterproductive: repression, arming of villagers, disavowal from other Islamist groups... Some Islamic combatants have decided to join international terrorist networks to regain prestige and find a way out of the hole they have dug for themselves.
La violence islamiste en Algérie a ignoré jusqu'ici l'attentat suicide. En effet, le candidat au " martyre " se caractérise par la conviction d'être un " pur " dans un monde souillé ; or les combattants islamistes algériens se sont toujours définis non comme des " purs " mais comme des " justes ", luttant pour le changement ici-bas : l'État, assimilé au Diable, sera vaincu par une guérilla jouissant du soutien du " peuple ", et remplacé par un État islamique. Le " peuple " n'ayant pas été à la hauteur des attentes, certains groupes ont réagi par les massacres de civils, justifiés par une représentation de leur pays non plus comme une terre d'islam mais comme une terre de jihad peuplée de renégats. Cette politique a été contre-productive : répression, armement des villageois, désaveu de la part d'autres formations islamistes... Certains combattants islamistes ont donc choisi de se rapprocher de réseaux terroristes internationaux, pour redorer leur blason et sortir de l'impasse.
Fichier principal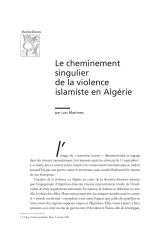 ci20p164-177.pdf (101.59 Ko)
Télécharger le fichier
Origin : Explicit agreement for this submission