Expatriation et notabilité. L'évergétisme et la diaspora iranienne
Notable and Exile. Figures of Eminence as a Social and Religious Dynamics in Iranian Society - The eminent man is omnipresent in Iranian political Society. It is he in particular who forms the link between state power and the regional, ethnic and religious diversity in a multicultural, multilingual and multiconfessional country. The continuity of the eminent man from the Empire to the Islamic Republic also defies the discontinuity of this transition. In the provinces the role played by such men, particularly at the time of elections, is considerable. At the same time, the act of running for office is a way of being recognised as a notable or as an eminent man (motamed), despite perhaps the minimal chance of being elected. However, eminence has no border and can not be reduced nor to a given social group neither to a particular geographical frame, and one can become eminent in exile where the adventure often provides specifie resources for becoming notable. Thus, the currency market has represented since 1980 a significant resource for exiles, taking in to account the continuous weakness and depreciation of the rial between 1980 and 2001. The investments which the Diaspora's notables lavish on their beneficiaries have thus become truly spectacular. This work analyses the notables' beneficence activities, on the one hand, as a facet of the recomposition of the Iranian community in diasporas and, on the other, as a shifted inquiry into one of the most ancient institutions of their homeland, the vaqf.
La figure notabiliaire est omniprésente dans la société politique iranienne. C'est notamment elle qui articule au pouvoir d'Etat la diversité régionale, ethnique ou religieuse, dans un pays multiculturel, multilinguistique, et multiconfessionnel. Aussi la continuité de la figure notabiliaire de l'Empire à la République l'emporte sur la discontinuité. Dans les provinces, le rôle joué par les hommes de confiance, notamment lors des élections, est considérable. En même temps, l'acte de se porter candidat est une façon de se voir reconnaître le statut de notable, en dépit éventuellement d'une chance minime d'être élu(e). Toutefois la notabilité n'a pas de frontière, que celle-ci soit sociale ou géographique, et l'on peut devenir notable dans l'émigration dont l'aventure fournit souvent elle-même des ressources spécifiques en la matière. Ainsi le marché cambiaire a représenté depuis 1980 une ressource notabiliaire formidable pour les émigrés, compte tenu de la faiblesse et de la dépréciation continue du rial des années 1980 jusqu'à 2001. Les investissements évergétiques que prodigue l'" homme de bien " de la diaspora sont ainsi devenus spectaculaires. Ce travail analyse le parcours évergétique de l'homme de bien, d'une part, comme une facette de la recomposition de la communauté iranienne dans la diaspora et, de l'autre, comme une interrogation décalée sur l'une des institutions les plus anciennes de la société d'origine, le vaqf.
Fichier principal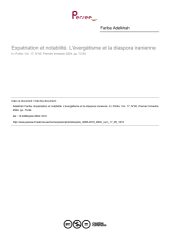 article-polix-0295-2319-2004-num-17-65-1610.pdf (1.75 Mo)
Télécharger le fichier
Origin : Explicit agreement for this submission