ONG, altermondialistes et société civile internationale
This article analyses the role and place of one of the " antiglobalization " movement's components : NGOs. They often appear as a major force in the protest against neoliberal globalization. Names such as OXFAM, Médecins sans frontières, Médecins du monde, Amnesty International, Human Rights Watch, Greenpeace, Comité catholique contre la faim et pour le développement (CCFD), are often associated with the " antiglobalization conglomeration ". The positioning of NGOs is neither neutral nor indifferent. Implicitly or explicitly, it is connected with an important issue : the representativity and legitimacy of antiglobalization protesters. But the compared analysis of the position taken by a few large international NGOs reveals important cleavages inside that world.
Ce travail a pour objectif l'analyse du rôle et de la place d'une des " composantes " de la mouvance altermondialiste : les ONG. Celles-ci apparaissent souvent comme une des forces majeures de la " contestation de la mondialisation libérale ". Les noms d'OXFAM, de Médecins sans frontières, de Médecins du monde, d'Amnesty International, de Human Rights Watch, de Greenpeace, du Comité catholique contre la faim et pour le développement (CCFD) sont souvent associés à la " nébuleuse altermondialiste ". Le positionnement des ONG n'est ni neutre ni indifférent. Implicitement ou explicitement, il s'articule avec un enjeu important, celui de la représentativité et de la légitimité des altermondialistes. Mais l'analyse comparée du positionnement de quelques grandes ONG internationales fait apparaître des clivages importants au sein de ce monde.
Fichier principal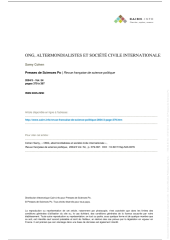 rfsp-543-0379.pdf (278.5 Ko)
Télécharger le fichier
Origin : Explicit agreement for this submission