Risques et limites d'un retour du nationalisme en Serbie
[Risks and Limits of a Return to Serbian Nationalism] Despite the overthrow of Slobodan Milosevic, Serbian nationalism has remained alive and well. Several reasons explain this: first, nationalism has become the ideological matrix of Serbian elites since the demise of communism; second, the state machinery, particularly its security services, have basically remained intact since 2000; moreover, the nationalist vote often translates the financial difficulties of the victims of economic transition; and last, territorial demands, especially in Kosovo, continually reinforce nationalist sentiment. Integrating Serbia into the European Union might help to prevent these excesses.
En dépit du renversement de Slobodan Milosevic, la persistance du nationalisme en Serbie est bien réelle. À cela plusieurs raisons : tout d'abord, le nationalisme est devenu la matrice idéologique des élites serbes après le communisme ; ensuite, les appareils d'État, et notamment les services de sécurité, sont restés pour l'essentiel en place après 2000 ; par ailleurs, le vote nationaliste traduit souvent les difficultés économiques des victimes de la transition économique ; enfin, les revendications territoriales, au Kosovo notamment, ne cessent de renforcer le sentiment nationaliste. L'intégration de la Serbie dans l'Union européenne pourrait sans doute faire en sorte d'en éviter les dérives.
Fichier principal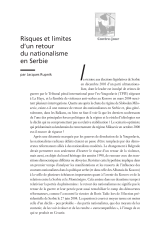 ci25p29-42.pdf (110.36 Ko)
Télécharger le fichier
Origin : Explicit agreement for this submission