India: Dynastic Democracy or Lineage Democracy?
L'Inde, démocratie dynastique ou démocratie lignagère ?
In India, the hereditary nature of political functions is a tradition dating back to the beginning of the Republic. The princes who entered the electoral arena after 1947 were the first to observe a practice well in accordance with their ancestors' dynastical logic. These heirs were nevertheless dismissed from the political game when they demonstrateda lack of any political devotion to the state. Such a rule is perfectly well illustrated by the Scindia lineage who recently inaugurated its third generation of members of parliament. The Nehru/Gandhi family incarnates the resonance of the dynastical repertory in the Indian policy in a more continuous way. But then again, nothing is automatic in the perpetuation of generations in power, either because the heirs are rejected by the electorate or they do not wish pursue their ancestors' activity. All in all, Indian politics seems to reflect a logic of lineage rather than dynasty, even if the modes of succession at the head of certain regional political parties has apparently been challenging such a model in recent years.
En Inde, l'hérédité des fonctions politiques est une tradition qui remonte aux débuts de la République. Les princes qui sont entrés dans l'arène électorale après 1947 ont été les premiers à observer une pratique qui était bien en accord avec la logique dynastique de leurs ancêtres. Ces héritiers ont toutefois été évincés du jeu politique lorsqu'ils n'ont pas su faire preuve d'un minimum de compétences et de dévouement à la chose publique. Cette règle est parfaitement illustrée par le cas des Scindia, une lignée princière qui vient d'inaugurer sa troisième génération de parlementaires. La famille des Nehru/Gandhi, elle, incarne d'une façon plus constante la prégnance du répertoire dynastique dans la politique indienne. Mais, là encore, il n'y a rien d'automatique dans la perpétuation des générations au pouvoir, soit que les héritiers se trouvent rejetés par l'électorat, soit qu'ils ne souhaitent pas endosser le manteau de leurs aînés. Au total, la politique indienne semble davantage répondre à une logique lignagère que dynastique, même si le mode de succession à la tête de certains partis régionaux semble remettre ce modèle en question depuis quelques années.
Fichier principal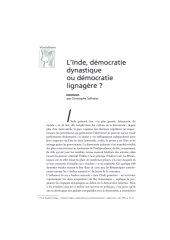 2006-jaffrelot-l-inde.pdf (627.01 Ko)
Télécharger le fichier
Origin : Publisher files allowed on an open archive