Les partis minoritaires, des partis " comme les autres " ? Les expériences du MDL en Bulgarie et de l'UDMR en Roumanie
Minority parties - "parties like any other"? The MRF in Bulgaria and the DUHR in Romania In the past decade, many a study has tried to explain the emergence and durability of so-called ethnic political parties in pluralistic post-Communist societies. Most of these writings have ascribed minority party electoral victories to a supposedly captive ethnic base. But are ethnic parties an exception? The analysis of the trajectories of the Movement of Rights and Freedom (MRF) in Bulgaria and the Democratic Union of Hungarians in Romania (DUHR) suggests a different conclusion. For one thing, identities are not always or systematically tapped as a political resource. The relative importance of identity politics and the changing definitions of identities advocated by these parties depend on: competition among minority political entrepreneurs, the form given to "ethnic cleavages" in the political arena and the state of relations between "generalist" parties and minority formations. For another thing, the MRF's and DUHR's electoral successes after 1989 should also be set down both to the organization of political competition around the opposition between anti- and ex-Communists (and the resulting alliances) and, also, to the ability of the MRF and DUHR to provide some minority members with prospects for unprecedented social mobility.
Au cours de la décennie passée, une abondante littérature a cherché à élucider les conditions d'émergence et de pérennisation des partis dits " ethniques " dans les sociétés plurales postcommunistes. Le plus souvent, ces études ont imputé les succès électoraux des partis minoritaires à l'existence d'un électorat ethnique supposé captif. Mais peut-on, sans dommages pour l'analyse, postuler une excep- tionnalité des partis ethniques ? L'observation des trajectoires du MDL en Bulgarie et de l'UDMR en Roumanie invite à la prudence. D'abord, l'offre identitaire ne saurait être conçue comme une donnée fixe et pérenne. Son importance relative et les définitions - changeantes - qui en sont données reflètent la concurrence entre acteurs minoritaires, la structuration des " clivages ethniques " dans l'espace politique et les relations entre partis " généralistes " et formations minoritaires. Ensuite, le succès électoral du MDL et de l'UDMR après 1989 doit également à l'organisation de la compétition politique autour d'une opposition fondatrice anti-communistes/excommunistes (et aux politiques d'alliance qui en sont résultées), ainsi qu'à la capacité des deux formations à fournir à certains membres des minorités des perspectives de mobilité sociale inédites.
Fichier principal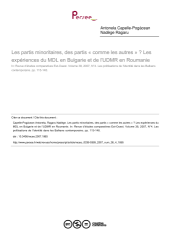 article-receo-0338-0599-2007-num-38-4-1865.pdf (2.97 Mo)
Télécharger le fichier
Origin : Explicit agreement for this submission