Une République islamique sans mosquées
An Islamic Republic without a mosque - Mosques in Iran imply primarily a set of means or physical facility readily available to users or bystanders on a daily basis. It also suggests religious rituals performed on a regular basis, in the presence of authorities who have the privilege or monopoly over a certain form of Islamic knowledge. In the first case the mosque is a rest stop, a shelter or a home where no one - male or female - should feel excluded or rejected. In the second case the faithful may prefer one place of worship over another, depending on intellectual or religious, community, professional, or even generational criteria. Such a dual purpose role - material and spiritual - has undoubtedly made it possible for mosques to resist both monopoly and isolation. In other words, while mosques have been used as a framework for the centralization of the State, they have also been elements of resistance to the State's claim to monopoly. We shall attempt to study the coexisting spiritual and material processes, which reinforce and complement each other, based on the new organization of mosques and new practices taking place inside mosques or their vicinity. Considering the changes of the past two decades, it would be better to speak of religious centers rather than mere places of worship.
Qui dit mosquée en Iran dit d'abord un ensemble de moyens ou de facilités laissés au quotidien à la disposition des passants ou des usagers. Ensuite des rituels religieux accomplis, de façon régulière, en présence des autorités ayant le privilège ou le monopole de délivrer un certain savoir islamique. Dans le premier sens la mosquée est un point d'eau, un toit, un accueil où nul(le) ne se sentirait exclu(e) ou ne se verrait refoulé(e). Dans le second sens elle relève des choix du croyant qui peut préférer un lieu par rapport à un autre, en fonction de critères aussi bien intellectuels que religieux ou encore de type communautaire, professionnel, voire générationnel. C'est sans doute la concomitance même de ces deux formes d'utilité, matérielle et spirituelle, qui font que les mosquées ont résisté, d'une part, au monopole, de l'autre, à l'isolement. Autrement dit, si les mosquées ont servi de cadre à la centralisation de l'Etat, elles ont également été des instances de résistance à la prétention monopolistique de ce dernier. Le présent travail tente une analyse des dynamiques concomitantes, spirituelles et matérielles, qui se renforcent et se complètent, à partir de la nouvelle organisation des mosquées et des nouvelles pratiques qui se déroulent en leur sein ou dans leur proximité. De fait il convient mieux, depuis une vingtaine d'années, de parler de complexes religieux plutôt que de simples lieux de prière.
Fichier principal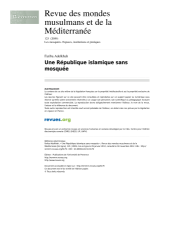 remmm-6179-125-une-republique-islamique-sans-mosquee.pdf (756.74 Ko)
Télécharger le fichier
Origin : Explicit agreement for this submission