Les organisations internationales et la gestion des risques et des catastrophes " naturels "
"Natural" risks and catastrophes appeared in the international arena in the early 1990s. A real " world " of "natural" catastrophes has emerged internationally and has become more and more institutionalized. This study raises questions such as: how has this space been built? How do actors legitimize its necessity? What does it tell us about the way the contemporary world manages fears globally? A diachronic approach of this double process of internationalization and institutionalization allows the author to situate the phenomenon in the historical and global context, and notably of a context of transformation of the notion of security. The sociological analysis of the main multilateral organizations that contribute to forming this space invites us to apprehend the various lines of tension that cross over, and to foresee its complexity. Despite the many attempts to make this space appear as a "community" of sense and practices, strong disparities characterize the actors' approaches.
Depuis le début des années 1990, la thématique des risques et des catastrophes " naturels " a émergé sur la scène internationale. Un véritable " monde " des catastrophes " naturelles " s'est constitué au niveau international et s'est peu à peu institutionnalisé. Comment ses acteurs en légitiment-ils la nécessité ? Que nous révèle-t-il de la façon dont le monde contemporain gère ses peurs au niveau global ? Une approche diachronique de ce processus d'internationalisation et d'institutionnalisation permet de resituer ce phénomène dans un contexte historique et mondial, notamment de transformation de la notion de sécurité. L'analyse sociologique des principales organisations intergouvernementales, qui jouent un rôle central dans cette dynamique, invite à saisir les différentes lignes de tension qui la traversent et à entrevoir sa complexité. En effet, malgré les tentatives visant à faire apparaître cet espace comme une " communauté " de sens et de pratiques, de fortes disparités caractérisent les approches des différents acteurs.
Fichier principal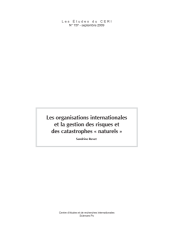 etude157.pdf (343.86 Ko)
Télécharger le fichier
Origin : Explicit agreement for this submission