Les enjeux des réformes des politiques de l'emploi dans les monarchies du Golfe
During the first decade of the 21st century the Gulf States undertook reforms of their social policies based on the generous redistribution of hydrocarbon profits. One of the elements of the redistribution was to guarantee of employment. Beginning in the 1990s rising unemployment indicated that the traditional employment policies were ineffective, generating social tensions as evidenced in the "Arab spring". The goal of the reforms is to move nationals into salaried jobs in the private sector, currently held largely by foreign workers. The change is strongly opposed by business executives and local entrepreneurs. Having become accustomed to inexpensive foreign workers they object to the increased costs entailed by the reforms. The royal families are thus obliged to negotiate between the interests of the private sector, often aligned with their own, and the dissatisfaction of the young, the group most impacted by unemployment and the key players in the protests that erupted in 2011 in Bahrain, Saudi-Arabia and Oman.
Dans les années 2000, les monarchies du Golfe ont entrepris de réformer leur modèle social, basé sur la redistribution très généreuse des dividendes des hydrocarbures. L'un des principaux dispositifs de cette politique de redistribution était l'emploi public garanti. Depuis les années 1990, l'apparition du chômage de masse indique que les politiques traditionnelles de l'emploi sont devenues dysfonctionnelles, générant des tensions sociales qui se sont notamment exprimées à la faveur du " printemps arabe ". L'enjeu des réformes en cours est d'aménager une transition des nationaux vers le salariat dans le secteur privé, largement dominé par les travailleurs expatriés. Cette perspective fait l'objet de fortes résistances de la part des hommes d'affaires et entrepreneurs locaux. Habitués à une main-d'oeuvre expatriée bon marché, ils refusent notamment l'augmentation du coût du travail qu'impliquent les réformes. Les dynasties royales sont dès lors confrontées à la nécessité de faire des arbitrages entre les intérêts du secteur privé, souvent étroitement imbriqués aux leurs, et le mécontentement de la jeunesse, principale catégorie touchée par le chômage et actrice des protestations qui, en 2011, ont touché le Bahreïn, l'Arabie saoudite et Oman.
Fichier principal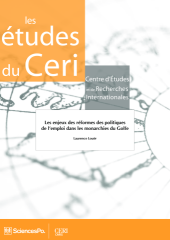 etude185.pdf (524.37 Ko)
Télécharger le fichier
Origin : Explicit agreement for this submission