Élites délinquantes et résistance au stigmate. Jacques Chirac et le syndrome Teflon
Delinquent Elites and Stigma Resistance: Jacques Chirac and the Teflon Syndrome In the interactionist sociology of deviance, stigmatisation is understood as a product of degradation rituals. Investigating this claim, the author argues that, to the contrary, delinquent elites benefit from restorative rituals when accused. Such rituals come into being in conjunction with the legal proceedings, with the aim of removing their disparaging effects. Taking the case of Jacques Chirac's condemnation, three processes are brought to the fore: procedural restoration; restoration through the minimization of illicit occurrences; and restoration through the negation of any intentional wrongdoing. Such rituals produce the peculiar situation in which an individual is at once guilty and innocent.
Pour la sociologie de la déviance interactionniste, le processus de stigmatisation passe par des rituels de dégradation. En poursuivant cette perspective, l'auteur considère que les élites délinquantes bénéficient au contraire de rituels de restauration quand elles sont mises en cause. Ils se manifestent de façon parallèle à la procédure judiciaire pour lui enlever une grande partie de ses effets dépréciatifs. A propos du procès dans lequel J. Chirac a été condamné, trois processus sont montrés : une restauration par la procédure, une autre par la minimisation des faits illicites, une troisième par une négation de l'intention transgressive. Ces rituels produisent une situation originale d'un individu à la fois coupable et innocenté.
Fichier principal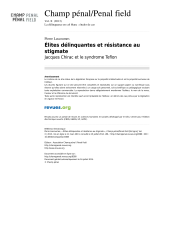 champpenal-8388-vol-x-elites-delinquantes-et-resistance-au-stigmate.pdf (214.35 Ko)
Télécharger le fichier
Origin : Explicit agreement for this submission