Vers une nord-irlandisation du monde ?
Didier Bigo and Emmanuel-Pierre Guittet discuss Northern Ireland as the experience of a democracy in which politicians have infringed the State's legal frame in the name of an exceptional situation of violence. The authors thereby present Northern Ireland as a metaphor to understand the relationship between discourses in situations of exception and surveillance, and control military practices bringing a war like atmosphere to the country. Therefore, isn't Northern Ireland the early experience of suspicion, widening the scope of population and territory to be controlled, of time to be anticipated and finally of arbitrary coercion (murder or torture)? If the British policies in Northern Ireland are not the American global policies post 11-09, nor are they their origin or model. But one can nevertheless read this American policy through Northern Ireland as the economy of suspicion and derogation, where the logic of the subordination of national legal procedures to security imperatives does almost always lead to what one will later call " abuses ".
En discutant l'Irlande du Nord comme l'expérience d'une démocratie au sein de laquelle des hommes politiques ont dérogé au cadre légal de l'Etat de droit au nom d'une situation exceptionnelle de violence, Didier Bigo et Emmanuel-Pierre Guittet présente l'Irlande du Nord comme métaphore pour comprendre la relation entre discours d'exception et pratiques militaires de surveillance et de contrôle qui importent à l'intérieur même du pays un climat de guerre. L'Irlande du Nord n'est-ce pas alors, avant la lettre, l'expérience de la suspicion qui conduit à un élargissement des populations à surveiller, du territoire à quadriller, du temps à anticiper et finalement de la coercition arbitraire (assassinat ou torture)? Si la politique britannique en Irlande du Nord n'est pas la politique américaine après le 11 septembre 2001 à l'échelle globale, elle n'en est pas plus l'origine ou le modèle, mais on peut lire cette politique américaine à travers l'Irlande du Nord comme économie de la suspicion et de la dérogation où la logique de subordination du processus judiciaire national aux impératifs de sécurité entraîne quasi automatiquement ce que l'on nomme, toujours a posteriori, des " dérives ".
Fichier principal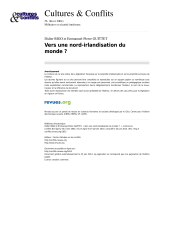 conflits-1653-56-vers-une-nord-irlandisation-du-monde.pdf (147.34 Ko)
Télécharger le fichier
Origin : Explicit agreement for this submission