Le concept de situation thermidorienne : régimes néo-révolutionnaires et libéralisation économique
The concept of "Thermidorian situation" finds itself in the tradition of the "authoritarian situation" (Guy Hermet) and "colonial situation" (Georges Balandier). It accounts for historical experiences of postrevolutionary regimes and their economic liberalization in the context of neo-liberal globalization. Developed from the Cambodian case, the Thermidorian comparative paradigm helps to interpret the economical and political liberalization processes in post-communist states and the establishment of their revolutionary elite into a dominating class. This interpretation does not refer to the normative and teleological terms of "transitology". Nevertheless, understanding the Thermidorian moment implies that it should not be reduced to a mere preservation of power, as an utilitarian reading of the events would imply. Indeed, it has to deal with autonomous social dynamics. Other types of post-revolutionary trajectories that are non-socialist, such as the Islamic Republic of Iran, can serve as good examples of this phenomenon. The Thermidorian paradigm takes into account a plurality of relatively homogeneous trajectories that combine into a revolutionary event, a process of institutionalization and professionalization of the latter, and of a dynamic of integration into the capitalist world economy. This concept cannot stand for an explanation, but emphasizes the specificity of the regimes that stem from a revolution and that are confronted to their own reproduction within the context of the dismantling of the socialist camp and neoliberal globalization. "Thermidorisms" have their own historicity, notably the revolution they arose from. They also have their own political economy that cannot be reduced to the imposition of the neo-liberal model. Thermidorian moments are historical experiences subjected to contingency vagaries and social struggles. As such, they are "situations" (Jean-Paul Sartre) in which the reproduction of power and liberty of actors are simultaneously at stake.
Dans la lignée des concepts de " situation autoritaire " (Guy Hermet) et de " situation coloniale " (Georges Balandier), celui de " situation thermidorienne " rend compte des expériences historiques des régimes postrévolutionnaires et de leur libéralisation économique dans le contexte de la globalisation néo-libérale. Développé à partir du cas du Cambodge, le paradigme thermidorien comparatif permet d'interpréter dans des termes autres que ceux, normatifs et téléologiques, de la " transitologie " les processus de libéralisation économique et politique des Etats néo-communistes, et la consolidation de leur élite révolutionnaire en classe dominante. Mais la compréhension du moment thermidorien suppose que celui-ci ne soit pas réduit de manière utilitariste à une simple stratégie de maintien au pouvoir. Par définition il compose avec des dynamiques sociales autonomes, comme l'illustre la prise en considération d'un autre type de trajectoire postrévolutionnaire, non socialiste, celle de la République islamique d'Iran. Le paradigme thermidorien considère une pluralité de trajectoires relativement homogènes, en tant que combinatoires d'un événement révolutionnaire, d'un processus d'institutionnalisation et de professionnalisation de celui-ci, et d'une dynamique d'intégration à l'économie-monde capitaliste. Il ne se pose pas en explication, mais souligne la spécificité de ces régimes issus d'une révolution et confrontés à leur reproduction dans le contexte du démantèlement du camp socialiste et de la globalisation néo-libérale. Pour autant les " thermidorismes " sont dotés d'une historicité propre, à commencer par celle de la révolution dont ils sont le légataire. Ils ont également leur économie politique singulière qui ne se résume pas à l'imposition du cadre néo-libéral. En tant qu'expériences historiques soumises aux aléas de la contingence et des luttes sociales, les moments thermidoriens sont bien des " situations " au sens sartrien de la notion, où se jouent simultanément la reproduction du pouvoir et la liberté des acteurs.
Fichier principal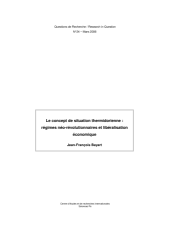 qdr24.pdf (376.72 Ko)
Télécharger le fichier
Origin : Files produced by the author(s)