Le jugement des candidats par les entreprises lors des recrutements
This text presents an original exploration of the French Ofer survey (Offre d'emploi et recrutement, 2005) on the recruitment practices of firms. The aim is to understand how firms organize their selection processes and how they use screening methods to assess the applicants' quality. We show that it has an impact on the profiles of those hired. First, descriptive statistics allow us to measure the variety (in quantity and quality) of selection methods and processes according to: i) occupations and skills, ii) firms size and constraints of coordination, and iii) recruitment channels. In the second part of the text, we reduce to 7 indicators the characterization of selection processes, and we obtain a typology of assessments operated by firms: standard, streamlined, contextual and formalized. Ceteris paribus, we notice that different types of assessments favour particular profiles. The most formalized assessments penalize people older than 50 or without diplomas.
Ce texte présente une exploitation originale de l'enquête Ofer (Offre d'emploi et recrutement, 2005) portant sur les pratiques de recrutement des entreprises françaises. L'objectif est de comprendre comment s'articulent entre eux les dispositifs de sélection sur lesquels les entreprises s'appuient pour juger les candidats, en montrant que cela a une incidence sur les profils recrutés. Dans un premier temps, des statistiques descriptives permettent de prendre la mesure de la diversité quantitative et qualitative des modes de sélection : ils varient selon les qualifications et compétences recherchées, selon la taille et les contraintes de coordination des entreprises, et enfin selon l'origine des candidatures. Dans la deuxième partie, nous caractérisons les modes de sélection en retenant 7 indicateurs. On obtient une typologie des processus de jugement opérés par les entreprises : standard, simplifié, contextuel et formalisé. Toutes choses égales par ailleurs, ce ne sont pas les mêmes profils de candidats qui résistent aux épreuves propres à chaque type de jugement. Les processus de jugement les plus formalisés, en particulier, ne sont pas favorables aux plus de 50 ans et aux non diplômés.
Fichier principal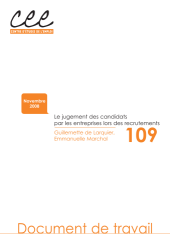 109-jugement-candidats-entreprises-recrutements.pdf (474.78 Ko)
Télécharger le fichier
Origin : Explicit agreement for this submission