Is Eastern Europe Uniformly Anti-Immigrant? Not so fast.
As the European Union struggled to address an unprecedented influx of refugees in 2015, four Eastern European governments rejected a proposal for European Union refugee quotas. Within each country, however, there are different views on the migrant crisis and immigration in general that are overshadowed by this uniform policy response. My research on the political divisions in each country explains that these differences are related to how political camps developed after communism. Through an analysis of the causes of immigration salience and the reasons behind immigration and integration policy positions of various parties in Eastern European countries, this research finds that which party – left or right – adopts more socially liberal policy positions depends on its relationships to communist federalism and the most politically notable ethnic group in the country. My work finds three distinct political patterns in Eastern Europe.
Alors que l'Union Européenne a fait face à un afflux de réfugiés sans précédent en 2015, quatre gouvernements d'Europe de l'Est ont rejeté la proposition de mise en place de quotas de réfugiés au sein de l'Union. Toutefois, à l'intérieur de ces pays, les positions diffèrent concernant la crise des migrants et l'immigration en général mais ces différences sont éclipsées par cette réponse uniforme à la réforme proposée. Ma recherche sur les divisions politiques propres à chacun de ces pays montre que ces différences sont liées au développement de différents partis politiques après la chute du communisme. À travers une analyse des causes de l'importance de l'immigration et des raisons expliquant les positionnements politiques des différents partis en Europe de l'Est sur ces questions, cette recherche démontre que l'adoption de politiques socialement libérales par un parti – qu'il soit de gauche ou de droite – dépend de sa relation au communisme fédéral, mais également du lien qu'il entretient avec le groupe ethnique national le plus important d'un point de vue électoral. Mon travail fait apparaître trois modèles politiques distincts en Europe de l'Est.
Fichier principal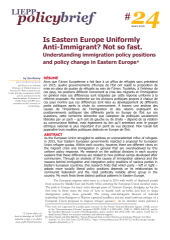 liepp-pb-24-immigration.pdf (1.7 Mo)
Télécharger le fichier
Origin : Files produced by the author(s)