La France à gauche de l'Europe
In postwar western Europe, the French Republic appears as the most reforming state in economic and social matters. France is the only country which initiated, and partly carried out, a sharing of power in undertakings, an appropriation of the means of production, as well as a real control upon the economy. Contrary to that policy, the Italian state did not institute joint committees, did not proceed to nationalizations, and did not put into work any instrument of general planning. Between these two borderline cases, and starting from the left-wing center to the right-wing center, one could successively meet Austria, Great Britain and Germany. Owing to a legitimate government, France had the opportunity to answer to the national will, i.e. a strong pressure in favour of nationalizations, unlike the Italian and German states where this yearning was tainted by the remembrance of the fascist socializations and the nazi control of the economy. France derived also benefit from a quick liberation, contrasting with that of the peninsula, which permitted an early entry in a reformation policy. In other respects, the Victory in England and the remembrance of the Anschluss in Austria contributed to reduce in these countries the revenge spirit which was underlying in France the reforming impulse.
Dans l'Europe occidentale de l'après-guerre, la République française apparaît comme l'État le plus réformateur en matière économique et sociale. La France est seule à avoir tenté, et réalisé en partie, à la fois un partage du pouvoir dans l'entreprise, une appropriation des moyens de production, et une maîtrise véritable de l'économie. A l'opposé de cette politique, l'État italien n'institua pas de comités d'entreprise, ne procéda à aucune nationalisation et ne mit en place aucun instrument de planification à vocation générale. Entre les deux cas-limites, et en partant du centre-gauche pour aller au centre-droit, on rencontrait successivement l'Autriche, l'Angleterre et l'Allemagne. Bénéficiant contrairement à l'Allemagne d'un gouvernement légitime susceptible de répondre à la volonté nationale, et connaissant une vive poussée nationalisatrice à la différence des États italiens et allemands où cette aspiration se trouvait entachée du souvenir des socialisations fascistes et du dirigisme nazi, la France profita également d'une libération rapide, contrastant avec celle de la péninsule, qui lui permit d'engager une politique précoce de réformes.
Fichier principal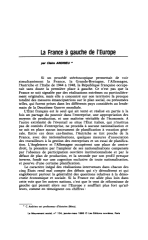 1986-andrieu-la-france-a-gauche-de-l-europe.pdf (2.08 Mo)
Télécharger le fichier
Origin : Publisher files allowed on an open archive