Le mouvement associatif islamique en Ile-de-France
Associative islamic movement in Ile-de-France - The growth of religious organisations has become a new issue as far as migrants' groupings are concerned in France. The former defined themselves as the bulk identity makers of the muslim migrant populations, and thus try and set the line, by using various types of policy, either in the cultural field or in the political, say, symbolic ones, when negociating with the authorities at every rung of the ladder. By acting in such a way, are they building barriers between the muslim migrant populations and the native population, or rather, are they are trying to find ways and means in order to make the muslims cope with the guest society ? The paper deals with different aspects of muslim organisations: history and reasons of creation of the organisations; structuring of belongings; ways of communicating culture, language, religion; discourse on islam and its perception: relationships at local and national level.
L'émergence de regroupements investissant dans le champ du sacré constitue une nouvelle donne dans l'espace associatif immigré. Ceux-ci se définissent comme sites des ressources identitaires, et, dans leur transaction avec les instances de la société d'accueil, élaborent et mettent en chantier de nouveaux schèmes d'expression culturelle, politique, symbolique. Les dirigeants de ces associations, en s'arrogeant le rôle d'« entrepreneurs identitaires », amorcent-ils une politique de marginalisation voire de repli des populations musulmanes, ou favorisent-ils un modèle d'intégration sociale ? L'article, après avoir retracé la genèse et les raisons de création de ces associations, analyse la structuration des appartenances, s'interroge sur les stratégies amorcées en vue de la transmission de la culture, langue et religion, et, d'autre part, rend compte des différents types de discours et des rapports entretenus au niveau local et national.
Fichier principal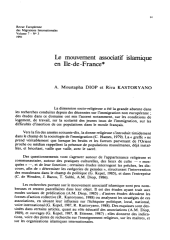 1991-diop-kastoryano-le-mouvement-associatif-islamique-en-ile-de-france.pdf (2.22 Mo)
Télécharger le fichier
Origin : Publisher files allowed on an open archive