Quand la fusion s'impose : la (re)naissance de l'université de Strasbourg
The article analyzes the merging of three Strasbourg universities, focusing in particular on the actors who promoted it and the arguments used to justify it. The merger and the larger movement it generated in the French higher education system amount to an institutional change aimed at making French universities conform to what are presented as international organizational standards. The point is to understand the concrete processes that gave rise to this change and the role played by the institutional entrepreneurs who wanted it to happen and made it happen. The article therefore contributes to institutional change studies and works to renew neo-institutional analysis of organizations, namely by reintroducing the notions of agency, interest and power relationships.
Cet article porte sur la fusion des trois universités de Strasbourg et s'intéresse aux acteurs qui l'ont conduite, ainsi qu'aux argumentaires qui l'ont justifiée. Cette fusion et le mouvement généralisé qu'elle a suscité au sein du système d'enseignement supérieur français représentent un changement institutionnel visant à mettre les universités françaises en conformité avec des normes organisationnelles présentées comme des normes mondiales. Il s'agit de comprendre par quels processus concrets cette évolution s'est produite et quel a été le rôle des entrepreneurs institutionnels qui l'ont portée. Cet article s'inscrit donc dans la lignée des travaux qui étudient les phénomènes de changement et renouvellent l'analyse néo-institutionnaliste des organisations, en réintroduisant notamment les notions d'agency, d'intérêts et de rapports de pouvoir.
Fichier principal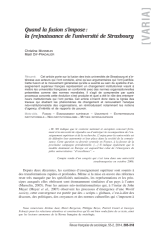 2014-musselin-dif-pradalier-quand-la-fusion-s-impose.pdf (277.62 Ko)
Télécharger le fichier
Origin : Publisher files allowed on an open archive