L'opinion à la conquête de l'international
Public opinion's international advance
The international political impact of the information and communication revolution has no doubt been underestimated. By directly addressing individuals, the mass media are now consummating a process that has been at work since the 19th century, reshuffling the cast of international players and shifting the prevailing paradigms. Hitherto a jealously guarded reserve of State, foreign affairs are now "everybody's business". Individuals within a given country are joining forces to assert their opinions on international affairs – opinions that have currency within their national borders, but may well converge with those of other populaces as well. Concurrently, transnational networks are mobilizing with growing autonomy, creating a truly transnational forum for debate and for the expression of international public opinion.
L'impact sur le jeu international de la révolution technologique, en matière d'information et de communication, a sans doute été sous-estimé. En s'adressant aux individus, les médias achèvent un processus à l'œuvre depuis le 19e siècle, qui bouleverse l'identité des acteurs internationaux et énonce une rupture de paradigmes. Auparavant strictement réservées aux États, les Affaires étrangères sont désormais « l'affaire de tous ». Au sein d'un État donné, les individus se mobilisent pour faire valoir leur opinion sur l'international (OPSI). Celle-ci agit au sein même des frontières nationales, mais peut également converger avec l'OPSI d'autres populations. Simultanément, des réseaux transnationaux de mobilisation déploient une autonomie croissante, et forgent un véritable espace transnational de débat, pour une opinion publique internationale (OPI).
Fichier principal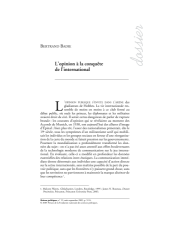 2005-badie-l-opinion-a-la-conquete-de-l-international.pdf (128.02 Ko)
Télécharger le fichier
Origin : Publisher files allowed on an open archive