Former le « bon citoyen » libéral
With the aim of analysing the complex relationship between a morally "robust" civic education and pluralism, this article confronts and compares the stances of William Galston and Stephen Macedo. Based on their rejection of "neutralist" liberalism, both authors argue for the inculcation of values and virtues constitutive of the liberal "good citizen". However, the "unity amid diversity" challenge still divides them. The main oppositional node between their "liberal-pluralist" and "civic-liberal" standpoints is on the appropriate limits of the liberal state's educational intervention vis-à-vis "dissenting" families and groups. This therefore opens up a potential clash of paternalisms. The article concludes with an emphasis on the theoretical and practical tensions and problems resulting from the use of a "values" lexicon to promote liberal democratic citizenship.
Dans cet article, le rapport complexe qu'une éducation civique moralement « robuste » entretient au pluralisme est examiné à partir d'une lecture croisée des positions de William Galston et Stephen Macedo. Si tous deux enracinent leurs plaidoyers pour l'inculcation des valeurs et vertus du « bon citoyen » libéral dans un rejet commun du libéralisme « neutraliste », leurs positions se désolidarisent face au défi de « l'unité dans la diversité ». Ainsi les divergences entre les modèles « libéral-pluraliste » et « civique-libéral » qu'ils défendent respectivement se cristallisent autour des limites de l'intervention éducative de l'État libéral vis-à-vis des familles et groupes « dissidents ». Ouvrant la perspective d'un choc des paternalismes, la confrontation des points de vue de Galston et Macedo vient révéler les tensions et difficultés, à la fois théoriques et pratiques, engendrées par l'usage d'un langage des « valeurs » en vue de promouvoir la citoyenneté démocratique libérale.
Fichier principal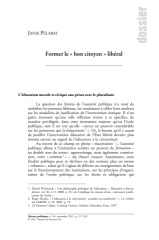 2011-12-pelabay-former-le-bon-citoyen-liberal.pdf (151.87 Ko)
Télécharger le fichier
Origin : Publisher files allowed on an open archive